Here's a  Tiny Virtue for Exemplary Christian Living that you may not have considered: Reserve. In a microwave culture where we want everything instantly, consume things immediately, but tire of them just as quickly, the idea of reserve (until later) is a foreign concept.
But even those who have mastered the art of saving, there's an equal danger of hoarding. Not using things out of fear there will be a need somewhere down the road. So some people will stockpile a stash for when they will need it.  SELF magazine online responds to that tendency with an article to help people discern the 6 warning signs of hoarding disorder, the "difference between having a disorder and just really, really liking your stuff."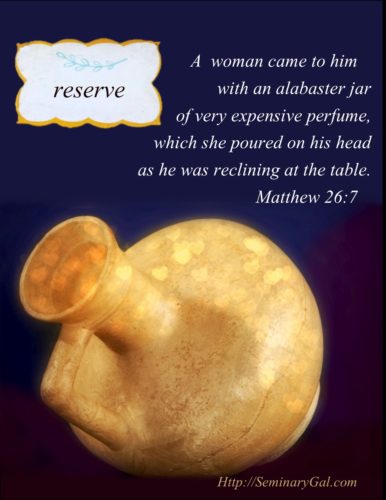 Reserve—in a biblical sense—is the antidote to both instant consumption and hoarding.  The "sinful woman" had reserve down to an art form.
Matthew 26: 6 While Jesus was in Bethany in the home of a man known as Simon the Leper, 7 a woman came to him with an alabaster jar of very expensive perfume, which she poured on his head as he was reclining at the table. 8 When the disciples saw this, they were indignant. "Why this waste?" they asked. 9 "This perfume could have been sold at a high price and the money given to the poor." 10 Aware of this, Jesus said to them, "Why are you bothering this woman? She has done a beautiful thing to me. 11 The poor you will always have with you, but you will not always have me. 12 When she poured this perfume on my body, she did it to prepare me for burial. 13 I tell you the truth, wherever this gospel is preached throughout the world, what she has done will also be told, in memory of her.
Do you see how she both reserved for the future and reserved for using well?
The disciples were indignant because they only saw reserve as investment, a means of financial gain to control for distribution. Jesus saw her reserve as saving this precious perfume for a far more special purpose: anointing the Savior. Jesus makes it clear that her reserve was beautiful… and a virtue worth remembering.
Ponder today: what are you holding onto…and why?
Bible character of the day: the sinful woman