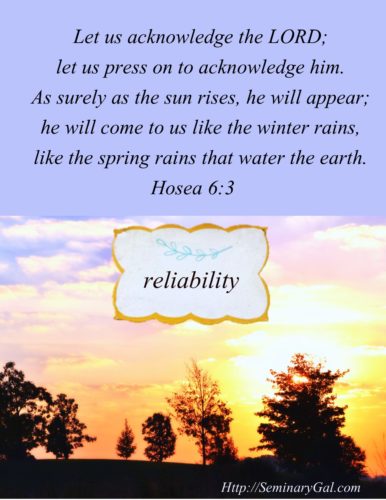 Can you think of someone in your life who you can always count on? Reliability is one of the more beautiful virtues among the Tiny Virtues for Exemplary Christian Living. Reliability is a lovely anchor for the soul. Like solid ground and rest for the weary and worn traveler.
Some of you may be thinking, "Haven't you already done this virtue?" You know, loyalty.
I submit to you that what loyalty is among the heart virtues, reliability is among the character virtues.
Reliability ministers to others' needs as an expression of one's heart.
The Apostle Paul writes,
2 Timothy 4:6 For I am already being poured out like a drink offering, and the time has come for my departure. 7 I have fought the good fight, I have finished the race, I have kept the faith. 8 Now there is in store for me the crown of righteousness, which the Lord, the righteous Judge, will award to me on that day– and not only to me, but also to all who have longed for his appearing. 9 Do your best to come to me quickly, 10 for Demas, because he loved this world, has deserted me and has gone to Thessalonica. Crescens has gone to Galatia, and Titus to Dalmatia. 11 Only Luke is with me. Get Mark and bring him with you, because he is helpful to me in my ministry. 12 I sent Tychicus to Ephesus. 13 When you come, bring the cloak that I left with Carpus at Troas, and my scrolls, especially the parchments. 14 Alexander the metalworker did me a great deal of harm. The Lord will repay him for what he has done. 15 You too should be on your guard against him, because he strongly opposed our message. 16 At my first defense, no one came to my support, but everyone deserted me. May it not be held against them. 17 But the Lord stood at my side and gave me strength, so that through me the message might be fully proclaimed and all the Gentiles might hear it. And I was delivered from the lion's mouth.
"

Only Luke is with me

." Let that sink in.
Reliability.
"

At my first defense, no one came to my support, but everyone deserted me

."  (Huh?)
Here is the Apostle Paul toward the end of his earthly life. The going got tough and people were abandoning him right and left. Worse, they were doing him harm on their way out. People were opposing him at every turn. Paul was in the midst of the end and he knew it. What he didn't know…was the future…that he'd be a hero to many Christians in the centuries to come, indeed their favorite apostle. Right now, he's facing the end. "Only Luke is with me," he writes.
Scripture doesn't say if Luke was elsewhere, afraid of persecution, not invited/allowed, or unable to attend Paul's first defense, but he's clearly there at the end. Two things about reliability: (1) there are special people in this world who stick with you no matter what happens and (2) even when you've been deserted by everyone else, as a Christian, the Lord stands at your side (v.17) and gives you strength.
Let us acknowledge the LORD; let us press on to acknowledge him. As surely as the sun rises, he will appear; he will come to us like the winter rains, like the spring rains that water the earth. (Hosea 6:3)
Ponder today: Many of us will never know what it's like to be abandoned. Nevertheless, may we always appreciate those who stand by our side and acknowledge our Savior who never leaves us nor forsakes us.
Bible character of the day: Luke