I remember Misty. She and I had a public conversation online decades ago and what I loved about engaging in discussion, even argument, with her was that she was thoughtful. She poked holes in everything, finding flaws in assumptions like nobody I've known since. She made me dig and think, one day particularly about Faith Alone (Sola Fide).
Misty was from the UK as many of my online friends are. I wouldn't say she was a seeker because she was agnostic, admitting no particular inclination toward faith or rejecting it. She seemed happy, or maybe just content, but didn't "have faith," something she saw as a fascinating distinction between us. One day she asked me,
I don't have faith. How do I get it?"

I replied, "It's a gift that God will give you if your heart is open to it."

Her reply, blunt and emphatic: "Well, He hasn't given it to me. What am I supposed to do now?"
Boom. Thunderbolt to the heart of an evangelist.
I felt the sucker punch and the wind out of my sails. What was she supposed to do if God didn't give her faith? If God's grace was a gift and faith itself was a gift and if it was through faith alone that one is saved?
She continued hammering, "How can it be grace alone if it's faith alone?"
<insert Barbara's cricket collection>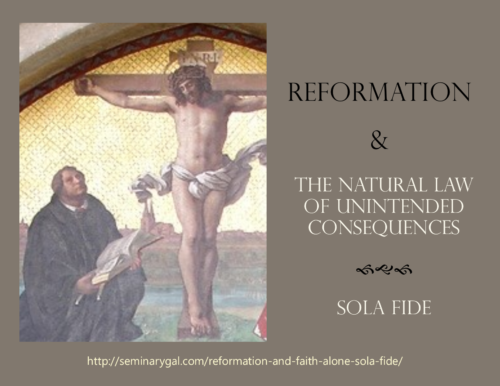 Greater theologians than I have debated the role of the will, of faith itself, and of the grace of God. It has inflamed arguments and hostility over big theologian words like justification, sanctification, redemption—unintended consequences—pitting Christian against Christian through history. Arguably, this issue of Sola Fide, Faith Alone, represents a great chasm in doctrine, seen notably between Roman Catholics and Protestants over the issue of works of faith. But Scripture is clear:
Ephesians 2:8 For it is by grace you have been saved, through faith– and this not from yourselves, it is the gift of God– 9 not by works, so that no one can boast.
I've concluded that God's grace and my faith are two pillar topics and they can both stand alone in their own right. God's grace alone makes salvation possible, no amount of faith will do it, but faith plays a huge role in my experiencing what it truly means. As Paul writes to Christians, not pagans or seekers in Ephesians 3, "I pray that out of his glorious riches he may strengthen you with power through his Spirit in your inner being, so that Christ may dwell in your hearts through faith. (Ephesians 3:16–17).
Faith (as God's gift and my willful response to God's grace) is the means by which Christ dwells, abides, continually interacts with power in my life. I know Him by experience of my faith. It's like the man's plea for help in Mark 9:22 "But if you can do anything, take pity on us and help us." 23 "'If you can'?" said Jesus. "Everything is possible for him who believes." 24 Immediately the boy's father exclaimed, "I do believe; help me overcome my unbelief!"
"I do believe," he says. (Faith Alone reaches out as far as any human can). "Help me overcome my unbelief" (Grace reaches down and bridges the gap as the gift of Grace Alone can.) And it is a gift that they meet, both Grace Alone and Faith Alone, allowing a personal experience of the living Christ dwelling in any believer.
Circling back to Misty, I hope she has come to the place of humbly doing her part, holding out her hand to receive this gift God wants to give, salvation possible by Grace Alone. I pray she has been experiencing the ongoing presence of Christ through Faith Alone (Sola Fide) as Christ helps her to overcome her unbelief.
===
The 5 Solas of the Reformation began on October 26, 2017 and can be found in the archives.
Sola Fide (Faith Alone);
Solus Christus (Christ Alone); and
Soli Deo Gloria (To God Alone Be Glory).