We're living in a time in which it's hard to live a godly life. I don't know that it's ever been easy, but it seems like there's much in our instant-gratification-culture that establishes a quick lure to the dark side. If we're not careful by actively, continually pressing into goodness, Boom! There we are. On the dark side before we really know what's happened. Each of us asking ourselves,
How did I get here?"
People can persist in many things, whether good pursuits or bad habits. For the Christian, Persistence is the Wisdom of Pressing Onward and Upward. It's not just an annoying continuance as a pesky fly, but in season and out, engaging in an onward and upward pursuit of what is good and godly.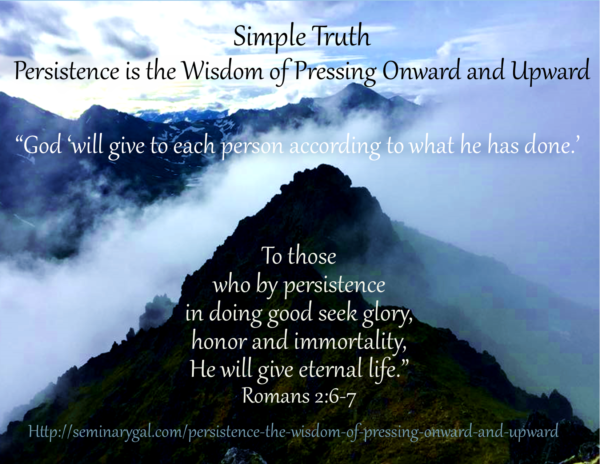 .
Romans 2: 6 God "will give to each person according to what he has done." 7 To those who by persistence in doing good seek glory, honor and immortality, he will give eternal life. 8 But for those who are self-seeking and who reject the truth and follow evil, there will be wrath and anger.
Do you see, both types of persistence involve a continuation, but only one pursuit is godly?
Granted no one likes to talk about sin, but I believe the Church has been doing the people a disservice. How? By taking the easy and comfortable route of nonconfrontation, showing only one side of persistence, only talking about the reward for seeking to do good…and importantly, without showing the powerful and deadly counterexample of what happens to those who reject God's truth.
Ignoring the negatives of wrath, anger, and punishment implies an annihilationism (that wrath never happens, we just become nothing), feeding a Darwinian dust-to-dust mentality. "Do good (relative truth) as your own reward and when you die you will have been a good person" is the message conveyed and we've bought it lock, stock, and barrel.
Do you see how wrong that self-seeking, self-truth message is?
It ends in wrath and anger just as if the person followed evil. Don't be that guy.
Be the one who seeks God's truth and presses onward to eternal reward.
===
Father God, we thank You for Your Word which contains all the truth we'll ever need. Lord Jesus, thank You for suffering and dying and taking the wrath that should have been ours and giving us the opportunity of redemption by Your grace, through our faith in You. Holy Spirit teach us what grace means and what truth is and point us eternally to the One who came in grace and truth, to live, to die, and to rise again. May we follow You, doing good, seeking glory, honor and immortality, and knowing You as the best reward heaven can offer. In Your precious Name, Amen.