While shepherds and sheep were common teaching examples, the Pharisees didn't really make a connection. After all, shepherds were lower class people and the Pharisees were better than that, or so they thought. So, driving home the point about the value of one in the eyes of the Father, Jesus tells another parable.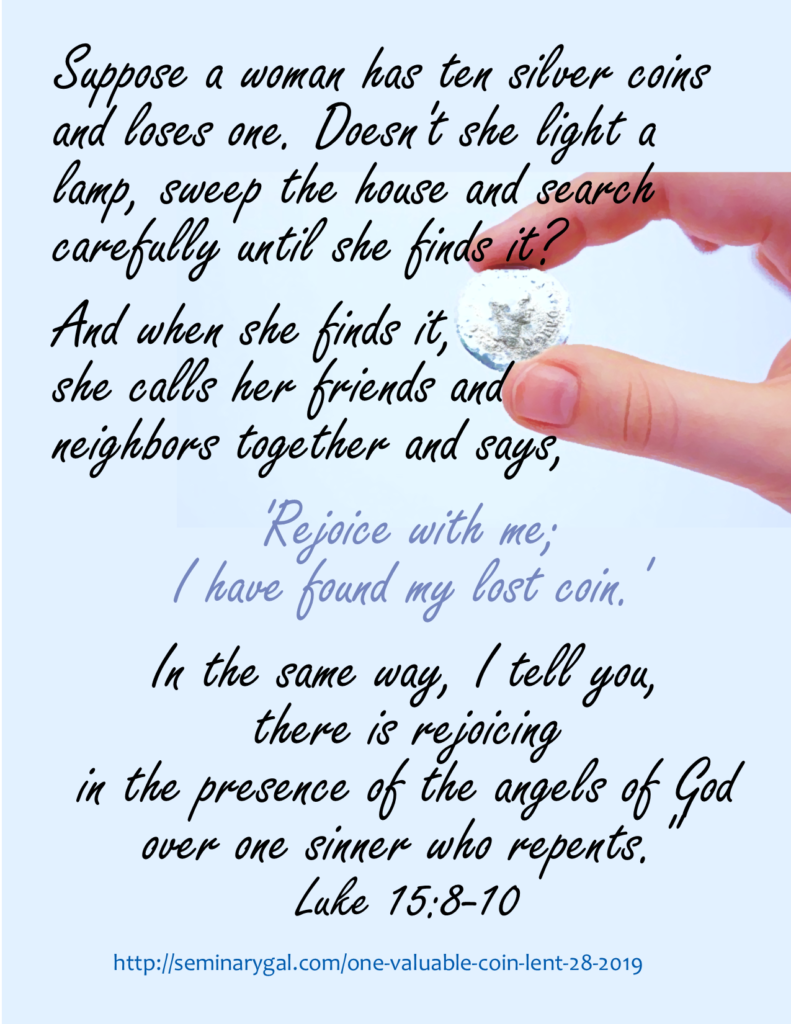 Luke 15:8 "Or suppose a woman has ten silver coins and loses one. Doesn't she light a lamp, sweep the house and search carefully until she finds it? 9 And when she finds it, she calls her friends and neighbors together and says, 'Rejoice with me; I have found my lost coin.' 10 In the same way, I tell you, there is rejoicing in the presence of the angels of God over one sinner who repents."
Money was something they could relate to. They looked intently at Jesus, knowing that they would rejoice over a lost coin being found. Jesus looked at them with equal intensity, and the Pharisees began to feel a bit uncomfortable that they resented tax collectors and sinners. It was this Jesus who was making them uncomfortable, when they were observant of the Law and this guy, this Jesus, was still associating with tax collectors and sinners. They'd never do anything of that sort! They didn't want to. A sinner who repents? What does that have to do with us? After all, a sinner who repents is still a sinner, right?
Think about it:
When people are so steeped in their own prejudices, is it easy for them to see clearly?  Why or why not? 
Read Luke 16: 13 "No one can serve two masters. Either you will hate the one and love the other, or you will be devoted to the one and despise the other. You cannot serve both God and money." 14 The Pharisees, who loved money, heard all this and were sneering at Jesus. 15 He said to them, "You are the ones who justify yourselves in the eyes of others, but God knows your hearts. What people value highly is detestable in God's sight."  What does God see? 
What distinguishes a sinner who repents (whom also the angels of God celebrate) from just a sinner? 
When a sinner repents, does it automatically take away the sin?  Does repentance mean different things when one repents before mankind versus when one repents before God?  Why?
Thank You, Father, for the joy You have in rescuing us, delivering us from darkness into the Light of Your Son Jesus Christ! Thank You, Holy Spirit, for teaching us what repentance truly means and for Your role in teaching and convicting us of righteousness. Thank You, Lord Jesus, for the forgiveness You purchased for us so that our repentance could result in angels rejoicing! Amen.
If you're already signed up on my Home Page sidebar to receive posts, you'll get the 2019 Lent Devotionals automatically. Or you can "Like" Seminary Gal on Facebook and they'll be delivered to your Facebook news feed. If you haven't signed up, today is a great day to do so. Advent and Lenten devotionals remain among my most popular offerings. You don't want to miss this great look at the Easter story to prepare your heart for Easter! Understanding that prior years' devotionals remain popular,