John 16:12 "I have much more to say to you, more than you can now bear. 13 But when he, the Spirit of truth, comes, he will guide you into all truth. He will not speak on his own; he will speak only what he hears, and he will tell you what is yet to come. 14 He will bring glory to me by taking from what is mine and making it known to you. 15 All that belongs to the Father is mine. That is why I said the Spirit will take from what is mine and make it known to you. 16 "In a little while you will see me no more, and then after a little while you will see me."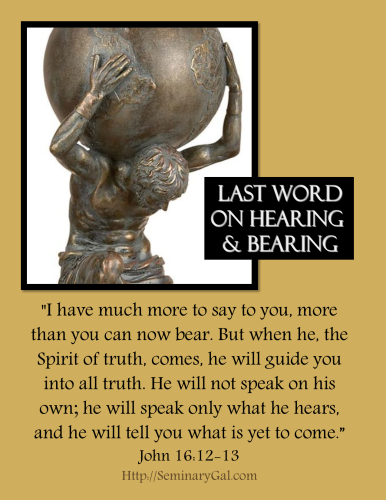 Much more?  MUCH more?  Isn't it interesting?  The disciples already feel like a world's weight of confusion rests heavy on their shoulders and Jesus basically says He's just getting started. There's much more to say to them.
That's the bad news.  The good news is that Jesus will stop now because He knows they can't bear any more.  But there's more good news: in the future, they will have some help.  Big help.
Have you ever been riding a bicycle that has different speeds/gears?
If you start riding and go uphill, it can be very hard to pedal.  Worse, you might begin to feel like you're going to fall because it's such slow going.  You downshift and it allows you to pedal with the gears working with you to cover ground more easily while keeping your balance.
Likewise, the Holy Spirit gives us help in that He downshifts the things of God so we can manage.  It's like He puts things in lower gear so we can stay balanced.  But continuing with this analogy, when things seem to be going downhill and out of control, He upshifts so that we can get through it quickly enough, but importantly we get through it safely without pedaling ourselves to death.
Jesus has a long view of discipleship.  He knows that a whole download of everything might overwhelm our human nature.  So He waits until the Spirit comes.  The Spirit brings glory to Christ by helping us to know Him more fully when we can bear it.
 * * *
Give it Up for Lent:  Do it yourself Christianity
Put it On for Lent: Discipleship help by His Holy Spirit
For further thought:
What are some of the dangers of trying to be Christian by following a religion alone?
What are some of the ways the Holy Spirit makes an ongoing relationship with Jesus possible?
In what ways does the Holy Spirit take God's accommodation to mankind (first, in the person of Jesus being God with us, Emmanuel) to a whole new level?  How does the Holy Spirit create a "gear ratio" for better knowledge, progress, confidence, and safety?
* * *
You can receive these devotional studies in your email (Monday through Saturday during Lent) by entering your email address on the SeminaryGal.com home page in the space provided in the sidebar.  Let's meet With Christ in the Upper Room.