Psalm 131:1 A song of ascents. Of David. My heart is not proud, O LORD, my eyes are not haughty; I do not concern myself with great matters or things too wonderful for me. 2 But I have stilled and quieted my soul; like a weaned child with its mother, like a weaned child is my soul within me. 3 O Israel, put your hope in the LORD both now and forevermore.
When is the last time you experienced a sense of total rest and contentment?  An overall sense of well-being?  Of Shalom, Simple Shalom?
Shalom.  This might be a good title for the discipleship lesson of this twelfth Song of Ascents. 
We've been climbing higher to the temple and the closer we get to the presence of God, the more it ought to cause us to see His greatness and power.  And how little control we have over anything.
Shalom is this wonderful place of peace and rest and contentment and well-being.  We don't need to get totally wrapped up in religious or political controversies or with mysteries we cannot possibly understand.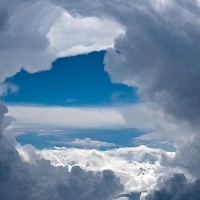 We're just experiencing total peace, stillness, rest, and silence in the eye of any storm.  It is here, in the presence of God, that our hope is anchored.
Shalom.  That's what the atheists couldn't possibly know.   I recently watched a brief news segment showing a "Reason Rally" (a Washington DC gathering of atheists who were out protesting).  The rally's basic message was, "Pay attention to us.  We're significant.  We're here, we vote, and we matter."  The participants seemed out to prove–once and for all–how smart and scientific they all are, rooted in some sense of intellectual superiority.  But in fact, they were just a largely ignored group of people—demonstrating the observable fact that they were full of themselves, intent upon proving themselves to be godless and smarter than the average bear, and concerning themselves with great matters and things too wonderful for them to ever know.  Not a dot of humility or shalom among the group.
Far from Christians being anti-intellectual, we can find rest in knowing that when our hope is in the Lord, we don't have to…be a god…in order to be right with God. 
No wrangling.  No squirming.  No wrestling.  No earning.  No striving.  No churning. 
Humility and shalom are the result of acknowledging the presence of God, putting our "hope in the Lord both now and forevermore."
For further thought:
What has you churning these days?
What part of your life is causing you worry, loss of sleep, or anxiety?
Meditate on 1 Peter 5: 6-7  "Humble yourselves, therefore, under God's mighty hand, that he may lift you up in due time.   Cast all your anxiety on him because he cares for you."