Mark 10:32 They were on their way up to Jerusalem, with Jesus leading the way, and the disciples were astonished, while those who followed were afraid. Again he took the Twelve aside and told them what was going to happen to him. 33 "We are going up to Jerusalem," he said, "and the Son of Man will be betrayed to the chief priests and teachers of the law. They will condemn him to death and will hand him over to the Gentiles, 34 who will mock him and spit on him, flog him and kill him. Three days later he will rise." 
Justice Gets Done!  But it's not always the way we expect. 
We're putting the Lukan travel narrative on pause briefly as we continue following Jesus' march of victory all the way "Up to Jerusalem."  Each of the Gospel writers has a particular style, emphasis, and arrangement of material.   The Gospel according to Luke has been emphasizing the humanity of Jesus—it has a profoundly human touch.  It was also a Gospel written for the Greek (Gentile) world showing the physician Luke's particular love for the arts (poetry and song), his heart for women and outsiders, and his knowledge of medicine.  All of this highlights the unique and perfect humanity of the Son of God, Son of Man, Jesus Christ.
But if Luke's Gospel was all we had, there would be emphases we wouldn't see.  There would be stories of Jesus we wouldn't have.  We'd miss the rich and deep perspective that the other Gospels give us when we see them in light of each other. So today we'll visit the Gospel of Mark whose perspective highlights the servanthood of Jesus.  In Mark 10:45 we read,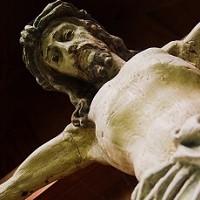 "For even the Son of Man did not come to be served, but to serve, and to give his life as a ransom for many."
 In Mark 10:32-34,  Jesus–Son of Man, Son of God–reveals how true Justice Gets Done!  It gets done through the Cross. 
The high cost of following ought to have been in plain view, yet the disciples were astonished.  Apparently only the crowd of people was afraid.  The disciples were a little slow on this point because Jesus had already told them as much in Mark 8:31, 9:9-10, 9:30-32.  And even after Jesus says it here, He'll have to repeat it a few more times (Mark 14:21, 41).
As followers of Jesus Christ, we ought to have a more sobering view of how Justice Gets Done!  Justice for All seems like something we would want.  But apart from Jesus, Justice for All means that you and I would be cast down as sinners, each and every one of us, because God is the perfect standard.  Astonished is hardly an appropriate reaction to understanding what it means when we want Justice for All.  John 3:16-17 reads,
For God so loved the world that he gave his one and only Son,
that whoever believes in him shall not perish but have eternal life.
For God did not send his Son into the world to condemn the world, but to save the world through him.
At the highest possible cost, the precious blood of Jesus, Justice Gets Done!