One of my favorite passages in the Bible about Kingdom Actions is set apart by this disclaimer:  "The earliest manuscripts and many other ancient witnesses do not have John 7:53-8:11…but the story may well be authentic." This is my favorite verse:
When they kept on questioning him, he straightened up and said to them, "If any one of you is without sin, let him be the first to throw a stone at her." (John 8:7)
I like this story not because it's got a disclaimer and I feel like the rebel I secretly want to be, but because I like picturing my Jesus, knowing full well that He alone is without sin, holding back a grin of greater knowledge, or having a twinkling eye at recognizing a pretty clever–but ineffective–trick when He sees it…or holding back His righteous anger at hypocrisy in front of His face by hyper-religious sorts that can't hold a candle to Him, and in any case delivering an amazing shut'em-up one-liner.
This one-liner is legally perfect and a total gotcha to maintain His sinlessness in the face of their taunting His grace to submit to His law when in fact, grace and law are two perfect sides of the same Truth.
Note: He didn't say "if any one of us is without sin."   They were sinners. He was/is without sin.
As we continue our deep dive into the 5 Kingdom Principles for Overcoming found in 1 Peter 2:21-23, we're looking at Kingdom Actions.  We're up to verse 22: "He committed no sin, and no deceit was found in his mouth."
Yesterday we saw that Dr. Martin Luther King tried to honor what Jesus modeled for all of us.  Dr. King wasn't perfect or sinless, but it's nice—particularly in the "Al Sharpton, Jesse Jackson, Miley Cyrus, Kate Gosselin Age of Poor Choices"—to see that someone like Dr. King still tried to preach honorable living.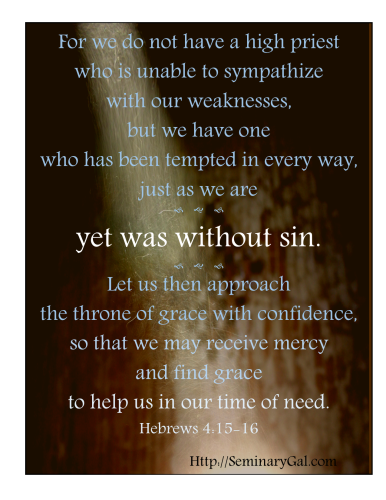 We cannot live sinless lives as did our Savior Jesus Christ, but we can rely upon His being without sin as our confidence of His being the only suitable Messiah.  We can try to live pursuing Kingdom Actions even when accused or facing suffering and know that there is grace He can offer precisely because He did not fail whereas we do.
Hebrews 4:15 For we do not have a high priest who is unable to sympathize with our weaknesses, but we have one who has been tempted in every way, just as we are– yet was without sin. 16 Let us then approach the throne of grace with confidence, so that we may receive mercy and find grace to help us in our time of need.
Let's endeavor to show Kingdom Actions by seeking His guidance daily, and seeking Him also for mercy and grace for the times we fail.