I wish I were better at savoring life's moments. How much of my life would have been different, better even, had I chosen to savor the moment I was in rather than wishing it away or looking perpetually ahead on the calendar of life? If only the babies would grow up and stop needing diaper changes. If only the kids could drive themselves to their activities. If only they would stop asking for homework help, just graduate and get a job. If only my degree was completed and I could do ministry. If only…
Never savoring the moment while I had it. It doesn't mean I was loveless or totally devoid of gratitude or enjoyment. I just never truly savored…really treasured…that time the way I should.
There's a scene in The Field of Dreams that I use for a lot of theological illustrations. Dr. Archibald "Moonlight" Graham reflects,
We just don't recognize life's most significant moments while they're happening. Back then I thought, 'Well, there'll be other days.' I didn't realize that that was the only day."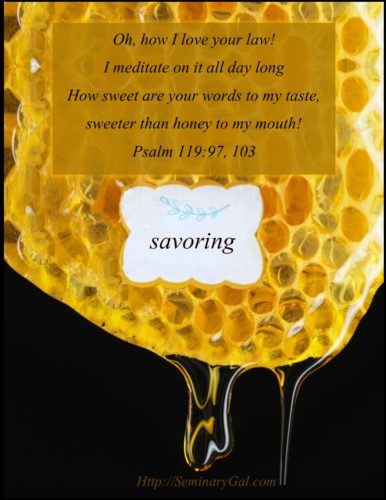 Savoring Today.  As we continue our look at the Tiny Virtues for Exemplary Christian Living, maybe savoring isn't so much a lost art as it is the flipside of a human failing. Because we can only see the past and the present, the future is for romantics and dreamers. The past can be romantic, too, like nostalgia in which a lot of the bad melts away and we primarily remember the beauty and the good. But the present? Rather than savoring the moment, we seem to be…in it…only to endure it.  Savoring is a tiny jewel among the virtues for exemplary Christians.  It's an art form in miniature.
Jesus and His mother Mary both understood savoring.  I'd like to be better at savoring that way. Mary had a string of ponderings, astonishments, and savoring at the time of Jesus' birth and throughout His early years. (Luke 2:1-51)
Jesus knew how to savor. Luke 22: 14 When the hour came, Jesus and his apostles reclined at the table. 15 And he said to them, "I have eagerly desired to eat this Passover with you before I suffer. 16 For I tell you, I will not eat it again until it finds fulfillment in the kingdom of God." 17 After taking the cup, he gave thanks and said, "Take this and divide it among you. 18 For I tell you I will not drink again of the fruit of the vine until the kingdom of God comes."
Ponder today: what you can savor in this moment and how to make savoring a part of your daily experience
Oh, how I love your law! I meditate on it all day long. How sweet are your words to my taste, sweeter than honey to my mouth! Psalm 119:97, 103
Bible characters of the day: Jesus and His mother Mary