As you'll soon be able to tell, I am embarking upon my unofficial "Overcomer's Week."  It's not on everyone's wall calendar, but it sure is on my personal calendar these days.  I cannot tell you how many people have recently asked me how I overcome disappointments, anger, stereotypes, etc. without giving in to the temptations to throw in the towel.  I'm presently in the process of writing an article on overcoming difficulties by the Gospel, and I'm finding inspiration–not only in Scripture–but in classic hymns like "Just as I Am." (click to listen).
The hymn's writer, Charlotte Elliot, became an invalid at the age of 19.  Joni Eareckson Tada tells the following story:
Charlotte Elliot had a severe illness early on in life which left her in great pain and often bedridden. As a young girl, she often became frustrated with her disability, and she would lament that her physical problems left her so out of sorts and irritable. When a visiting preacher shared the Gospel with her, she replied, "Oh, that's not for me; I'm not worthy; I'm not a very pleasant person." But the preacher told her, "Oh, Charlotte you should come just as you are." "Just as I am?" she asked, amazed, which is why, after she opened her heart to Christ, one of the first hymns she wrote was, "Just as I Am."
So at the age of 32, Charlotte wrote "Just As I Am" as she wrestled with her feelings about the Christian faith in light of her infirmity.  William B. Bradbury set the lyrics to music and the hymn was published in 1849. This popular hymn has been translated into many different languages and is frequently played at revivals and crusades during which time many thousands of people have committed their lives to Jesus Christ.  Not a bad legacy for a woman who spent the majority of her life suffering.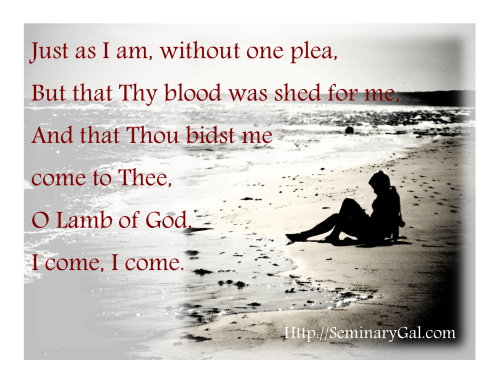 Just as I am, without one plea, But that Thy blood was shed for me, And that Thou bidst me come to Thee, O Lamb of God, I come, I come.
Just as I am, and waiting not To rid my soul of one dark blot, To Thee whose blood can cleanse each spot, O Lamb of God, I come, I come.
Just as I am, though tossed about With many a conflict, many a doubt, Fightings and fears within, without, O Lamb of God, I come, I come.
Just as I am, poor, wretched, blind; Sight, riches, healing of the mind, Yea, all I need in Thee to find, O Lamb of God, I come, I come.
Just as I am, Thou wilt receive, Wilt welcome, pardon, cleanse, relieve; Because Thy promise I believe, O Lamb of God, I come, I come.
Just as I am, Thy love unknown Hath broken every barrier down; Now, to be Thine, yea, Thine alone, O Lamb of God, I come, I come.
Just as I am, of that free love The breadth, length, depth, and height to prove, Here for a season, then above, O Lamb of God, I come, I come!