Acts 2:46 Every day they continued to meet together in the temple courts. They broke bread in their homes and ate together with glad and sincere hearts, 47 praising God and enjoying the favor of all the people. And the Lord added to their number daily those who were being saved.
If we're looking for the secret of church growth, it's simply this: Partake together in daily biblical praise of God and cultivate consistent gratitude.  That's contagious because it is so different than the rest of the world.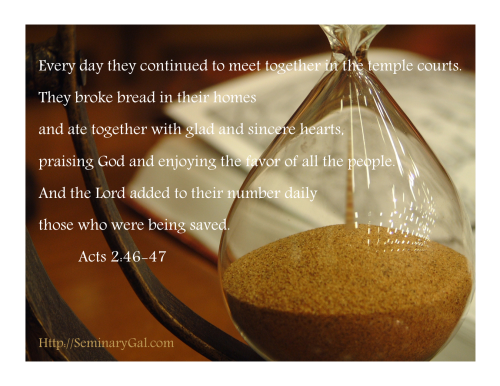 The world talks on cell phones and retreats into self-centered individualism
The world selfishly keeps everything, each to his own.  Sharing, when done, often has selfish motives.
The world lives with angst and anger.  There is a joyless existence and a constant striving to impress others with a fear of being found out.
The world praises man and rejects God.
No wonder that Christians who are living well stand out.  And no wonder God rewards this faithfulness with growth.
Questions to ponder:
Devotion to Scripture, fellowship, identity in Christ and prayer—all of this results in praising God and being grateful.  Where in this process do many churches fail?
Do you think it's easy to live the way the early Church lived as shown in Acts 2:46-47?  What might be some of today's obstacles?
What might be some reasons God withholds His blessing of growth from today's churches in the US?