Even in the organized Church, we can't get away from fake news. Twisted Scripture has always existed, but it has become part of the order of the day for modern Christians, even the Pope according to Christmas reminds us that Jesus was a migrant like today's refugees, says Pope Francis
(Sorry Pope Francis, I call them as I see them. Jesus was not a migrant like today's refugees looking for permanent residency and asylum. To conflate them does a disservice to both. Let's keep the Jesus in Scripture, okay?)
In a recent Catholic Sun article entitled, The Child Refugee, Jesus, the author Bishop Thomas J. Olmsted writes,
As we recall during this holy season how Jesus, as a little child, suffered the hardship of being a refugee along with Mary and Joseph, let us not grow weary of welcoming the Lord Jesus among the smallest and most vulnerable who come, in our day, to our beloved country.
True, Jesus' parents fled to Egypt only long enough to escape Herod's slaughter of the baby boys (Matthew 2:13-18) and that WAS political persecution, but they weren't looking to be forever residents of Egypt (see verse 13). In all of those things, God was fulfilling Scripture. Far from hardship in one sense, Jesus' parents had the Magi's gifts of gold, frankincense, and myrrh to fund their escape and to provide for their livelihood while they were in Egypt. They also came back to Israel after Herod died (Matthew 2:19-23). Why? God tells us in verse 23 "and he went and lived in a town called Nazareth. So was fulfilled what was said through the prophets: "He will be called a Nazarene."
It's twisted Scripture to equate what happened with Jesus (fulfilling Scripture) to what is happening with today's migrants: a confusing combination of politics, Hijrah (jihad-by-migration), and a genuine, horrific humanitarian crisis.
Still others tell wild stories of Mary and Joseph being homeless, Jesus being homeless…which also is twisted Scripture. Mary and Joseph had a home. Jesus had a home. Not if you read this opinion piece with thinly veiled political fake news stating that Jesus would be an "undocumented immigrant." The letter's author, David Iacono, states that Herod was a developer (hint, hint) and then he writes: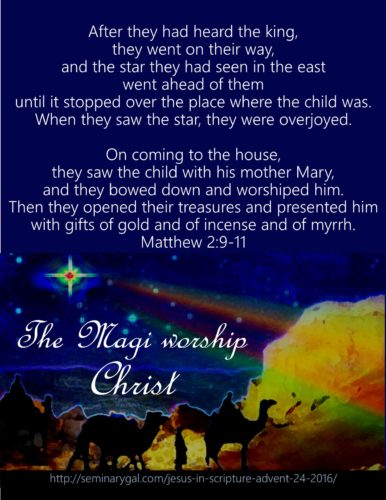 What would happen if Jesus returned to America? He would return as a Jewish person of color living in poor communities and helping the "least among us." Since Jesus would be considered an undocumented immigrant, he likely would be rounded up by immigration officials, held in a for-profit detention center, and eventually deported. He likely would be involved in nonviolent acts of civil disobedience against social, economic and environmental injustice. He probably would be pepper-sprayed, beaten, thrown in jail or sued for exercising his First Amendment rights. After all, we can't have any competition or challenge to the wealthy and powerful in this country.
Fake news is not Jesus' story. Justice and Truth are. It's a story that's Timeless!
There is a Jesus in Scripture and that's all we need.
The truth is Jesus' parents had documentation. Hello? They went to register because it was the law! But it wasn't an immigration roundup but registration of citizens–at the place of their ancestral birth–for paying taxes (especially in the case of the Jews who were exempt from the other purpose of the census: military service). Therefore, it was more like an extended trip to the Department of Motor Vehicles (only giving birth along the way). There was no room at the inn for a reason (Scripture doesn't say, but God's pattern is to avoid the shrine aspect of "God slept here" and maybe also so the shepherds would be the first visitors and not an innkeeper's wife casting doubt upon the whole thing). Furthermore, Jesus and His parents had a home after His birth and lived there for some months before they fled to Egypt. Joseph's work skills as a builder/carpenter would have made it fairly easy to set up shop even if it was uncommon in those days to be so mobile. No matter how many Nativity sets have wise men, the Magi didn't come to the stable in Bethlehem, but to a house which proves Mary, Joseph, and yes, Jesus were not homeless.
And Jesus wasn't pepper-sprayed, Mr. Iacono, He was crucified. And that, too, was to fulfill Scripture.
For further reflection, ponder how politicizing the birth of Christ is a disservice to Jesus and His Word. Read the birth narratives in Luke and Matthew for the Truth of what happened to the Jesus in Scripture.
===
Join me for Advent 2016 Devotionals called Timeless: the Message of Christmas for All Ages beginning November 27, 2106. Timeless hope, encouragement, grace, peace, and love will be ours as we look into the Word, see the face of our Lord Jesus, and experience restoration in His presence. His goodness and His Gospel are truly Timeless.
Advent began November 27, 2016. If you're already signed up on my Home Page sidebar to receive posts, you'll get the Advent devotionals automatically. If you haven't signed up, today is a great day to do so. Advent and Lenten devotionals remain among my most popular offerings. You don't want to miss this great way to prepare your heart for the true meaning of Christmas!