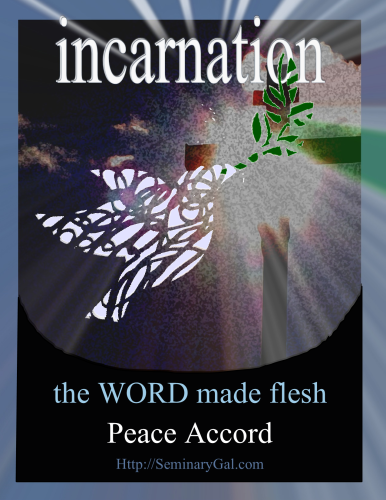 When opposing groups come to some sort of peace agreement, each side usually gives up something to reach a so-called happy middle ground. It's all about compromise and getting to a place of relationship.
Not so with God.
Because God is holy and we are sinners, there is no middle ground.
It's like pregnancy, you either are or you aren't. You're holy or you're not. And God, being holy, can have nothing to do with sin or the result is that He compromises His holiness. There is nothing He can do with sin except to eradicate it, punish it, and conquer it.
Jesus is God's peace accord and He did it in the Incarnation.
Read all of the vastly misused Romans 8. Especially verses Romans 8:1 Therefore, there is now no condemnation for those who are in Christ Jesus, 2 because through Christ Jesus the law of the Spirit of life set me free from the law of sin and death. 3 For what the law was powerless to do in that it was weakened by the sinful nature, God did by sending his own Son in the likeness of sinful man to be a sin offering. And so he condemned sin in sinful man, 4 in order that the righteous requirements of the law might be fully met in us, who do not live according to the sinful nature but according to the Spirit. …31 What, then, shall we say in response to this? If God is for us, who can be against us? 32 He who did not spare his own Son, but gave him up for us all– how will he not also, along with him, graciously give us all things? 33 Who will bring any charge against those whom God has chosen? It is God who justifies. 34 Who is he that condemns? Christ Jesus, who died– more than that, who was raised to life– is at the right hand of God and is also interceding for us. 35 Who shall separate us from the love of Christ? Shall trouble or hardship or persecution or famine or nakedness or danger or sword? 36 As it is written: "For your sake we face death all day long; we are considered as sheep to be slaughtered." 37 No, in all these things we are more than conquerors through him who loved us. 38 For I am convinced that neither death nor life, neither angels nor demons, neither the present nor the future, nor any powers, 39 neither height nor depth, nor anything else in all creation, will be able to separate us from the love of God that is in Christ Jesus our Lord."
Thought for the day: Jesus is our peace accord. God did not compromise His holiness to make peace with a death sentence we deserved. Know Justice. Know Peace.
Questions to ponder:
Why is it that we can never be holy apart from being "born-again" through faith in Christ?
Why does humanity prefer the idea of compromise? Of earning heaven? Of self-determination?
How is Jesus God's peace accord and able to turn our disposition away from following our sin nature which leads to only death…and toward life in the Spirit?
====
Incarnation (2015 Advent Devotional Series) began November 29th.  By way of reminder, if you haven't signed up yet, you can receive these devotional studies in your email throughout Advent 2015 by entering your email address on the SeminaryGal.com home page in the space provided in the sidebar.  Or "Like" the SeminaryGal Facebook page to access them there.  If you like these devotionals, I'd really appreciate your letting others know so I can continue to spread the Good News far and wide.  Blessings to you, in Christ always, Barbara <><