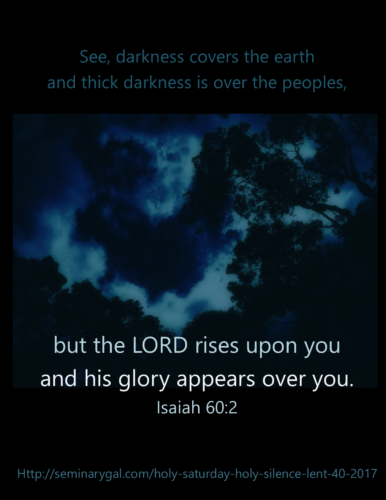 It's the final day of Lent, often called Holy Saturday, and our Lent devotional series Light: There's Nothing Like It is drawing to a close. The true Light upon the earth was extinguished in Jesus' death. There is nothing but darkness and silence almost as if people consider Saturday just a filler in Holy Week. Jesus is off Good Friday's Cross but not out of Saturday's tomb.
Is Jesus doing nothing, perhaps, but resting?
Like a Sabbath after the work of the Cross?
What do we make of this Holy Saturday, Holy Silence?
It isn't until the pensive darkness descends upon us that we realize the impact Light has made upon us and our world. We can wish for the night to end. We can pine for the sunshine to blind us again with its brilliance.
But we will wait in the darkness. We will watch for the dawn.
For now, we have a reminder of death. Of the grave. Of human sin so bad that Jesus was compelled by the love of the Father to die. We have only a memory of His Light, His life, His love, His mercy, and His grace. But for this one day each year we pause in the Holy Saturday, Holy Silence to remember He was once dead–cold, dead, and buried.
Isaiah 60:2 See, darkness covers the earth and thick darkness is over the peoples, but the LORD rises upon you and his glory appears over you.
His body was in the grave, but He was in "paradise" along with the repentant thief (Luke 23:39-43). His body would be raised Easter morning, but let's not be too eager to rush there headlong, forgetting the darkness of Holy Saturday and in doing so, fail to appreciate the true significance of the Light of the World and how much we need Him and the Light He brings.
Fun Fact of Light: Bits of light and color. It takes more bits to make pixels of color than just black and white. What are bits? They refer to color depth, the number of color values, subpixels within a single pixel in an image. Color depth ranges from 1 bit (black-and-white) to 32 bits (which can form over 16.7 million colors).
How Stuff Works writes, "a display that operates in SuperVGA (SVGA) mode can display up to 16,777,216 (usually rounded to 16.8 million) colors because it can process a 24-bit-long description of a pixel. The number of bits used to describe a pixel is known as its bit depth.
With a 24-bit bit depth, eight bits are dedicated to each of the three additive primary colors — red, green and blue. This bit depth is also called true color because it can produce the 10,000,000 colors discernible to the human eye … To create a single colored pixel, an LCD display uses three subpixels with red, green and blue filters. Through the careful control and variation of the voltage applied, the intensity of each subpixel can range over 256 shades. Combining the subpixels produces a possible palette of 16.8 million colors (256 shades of red x 256 shades of green x 256 shades of blue).
Loring Chien, electrical engineer says, "If you are looking at a plasma or a true light emitting diode display then it takes power to turn on the three colors to make white. And no power to make black. But if you are looking at a LCD display with a LED backlight or a conventional backlight, then the backlight is on at all times for all pixels. The LCD pixels become transparent or opaque to allow white light through or stop it for a black pixel."
For Further Thought:
If Jesus is the backlight, the true Light, shining even beyond the grave, then power to stop His light was only there while death still had the upper hand. Death had the upper hand only at the Cross and only because Jesus humbled Himself to it as the Father's will.

Read

John 2:18 Then the Jews demanded of him, "What miraculous sign can you show us to prove your authority to do all this?" 19 Jesus answered them, "Destroy this temple, and I will raise it again in three days." 20 The Jews replied, "It has taken forty-six years to build this temple, and you are going to raise it in three days?" 21 But the temple he had spoken of was his body. 22 After he was raised from the dead, his disciples recalled what he had said. Then they believed the Scripture and the words that Jesus had spoken.

But was Jesus just resting on Holy Saturday or was that when He was displaying His triumph over death? Read Colossians 2:13-15, 1 Peter 3:18-20 and Hebrews 9:27-28 for insight.
Thank You, Lord Jesus, for Your shed blood. Thank You for being sacrificed once to take away the sins of many people for all time. Thank You for Your promise to return. May we be found faithfully watching for You in that Day. Amen.