Why do Christians care about the empty tomb? Why was it important for Easter morning to acknowledge that He is Risen?
Jesus wasn't vaporized out of Pilate's interrogation or away from the crowd's shouts of "Crucify Him!" He didn't disappear (poof!) off the Cross into heaven on Good Friday or get beamed up like a character from Star Trek. If you peeked inside the tomb or if there was a hidden grave-cam recording the inside of the tomb on Saturday, His body was still in there. Dead. Dead. Dead. But by Sunday, He is Risen! He is Risen Indeed!
Jesus—in His human flesh—died, just as we do. His body went into a grave just like ours will someday (provided that's our burial choice). No matter what, Jesus' humanity was displayed in His ordinary death (with an acknowledged exponentially elevated level of persecution and wrath-bearing none of us will ever see). We didn't witness God on the Cross with superhuman characteristics, immune to what He was experiencing, not feeling really any of it. He was fully human, fully present, and in this respect, Jesus was entirely ordinary in His death.
So what's the big deal about the empty tomb? What happened to make it a big deal? And why do Christians care?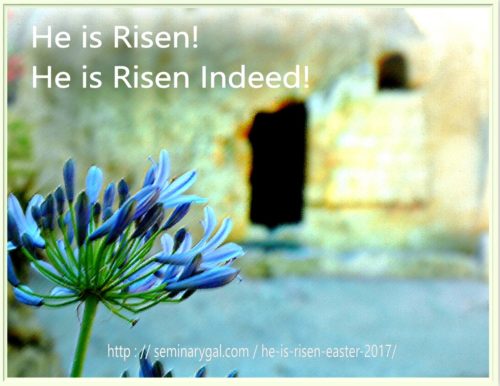 Had Jesus' body remained in the tomb and only His spirit and soul resurrected, it could be argued that it's just wishful thinking and He said, she said. But His body was gone too and people can talk about why He was missing, but the fact remains that He wasn't there. He is Risen. He is Risen Indeed! We can even go back to what He said before it ever happened: Matthew 16:21 From that time on Jesus began to explain to his disciples that he must go to Jerusalem and suffer many things at the hands of the elders, chief priests and teachers of the law, and that he must be killed and on the third day be raised to life.
The empty tomb is proof that Jesus told us the truth. He went before us to conquer death and as the Apostle Paul explains, to usher in a resurrection hope (1 Corinthians 15). Without the resurrection, we'd still be lost in our sins and victims of death forever. But Jesus is also the One who paved the way for us by His resurrection as the first and best. He's preparing a place for us (John 14:1-3) and we will follow and be resurrected too. And all this is why the empty tomb is still a most remarkable event in the history of the world. In Christ our hope is found because He is Risen! He is Risen Indeed!