I find myself researching hymns for inspiration in writing sermons and to round out the volunteer worship services that I coordinate each week.  In thinking about the wisdom of God in the cross of Christ, I have been drawn this week to hymns depicting the sacrifice of Jesus Christ.
"Man of Sorrows," What a Name (otherwise known as Hallelujah, What a Savior!) is one of those hymns. 
The composer, Philip Bliss (1838-1876), was taught to pray and sing by his father, a devout Methodist.  His mother educated him using the Bible.  His musical gift was first recognized at age 18 when he received his first formal voice lessons and wrote his first musical composition.
Bliss and his wife Lucy moved to Chicago and he took a position at Root and Cady Publishing House, a leading music publisher in Chicago.   In addition to being an itinerant music teacher and evangelist, Bliss had concert tours as a singer, while composing a number of hymns including the tune for Horatio Spafford's  It is Well with My Soul.   He became a full-time evangelist in 1874 after forming an association with Dwight L. Moody.
Two years later, Philip and Lucy were aboard a Pacific Express train traveling through Ashtabula, Ohio. The trestle bridge beneath the train collapsed, sending all the carriages into a ravine, and a fire broke out in the wreckage.  While Philip initially emerged from the burning train, he ran back to find his wife and was never to be seen again.  They were counted among the ninety-two passengers who died in what is known as the Ashtabula River Railroad Disaster.  Their bodies were never found.
His trunk, however, survived both the crash and the fire.  It contained a manuscript with lyrics to the song that became I Will Sing of My Redeemer when James McGranahan set it to music in 1877.
You can listen to Bliss' Hallelujah, What a Savior! on the cyberhymal  or hear a very nice modernized version of this classic hymn by Ascend the Hill.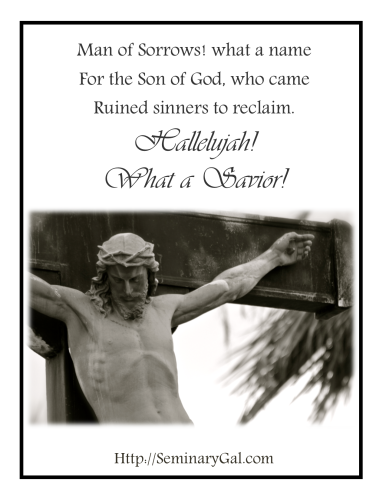 Hallelujah, What a Savior!
Man of Sorrows! what a name
For the Son of God, who came
Ruined sinners to reclaim.
Hallelujah! What a Savior!
Bearing shame and scoffing rude,
In my place condemned He stood; Sealed my pardon with His blood.
Hallelujah! What a Savior!
Guilty, vile, and helpless we;
Spotless Lamb of God was He;
"Full atonement!" can it be?
Hallelujah! What a Savior!
Lifted up was He to die;
"It is finished!" was His cry;
Now in Heav'n exalted high.
Hallelujah! What a Savior!
When He comes, our glorious King,
All His ransomed home to bring,
Then anew His song we'll sing:
Hallelujah! What a Savior!