I had occasion this week to be reminded of how many people suffer and yet will rejoice with those who rejoice.  Their lives are marked by terminal illness, family members who need round-the-clock care, job loss, inability to find work as they've reached a certain age, painful treatments for incurable diagnoses, children and grandchildren who have gone astray, and mental anguish from PTSD, depression and a host of other difficult things.  And yet, when the time comes to rejoice with others, they do.  They set their sadness aside long enough to rejoice in other people's happiness.  Romans 12 says that's a mark of true Christians.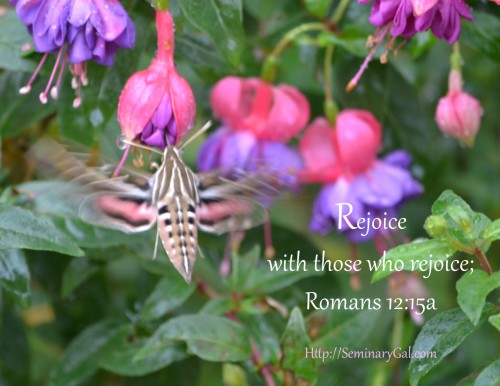 Romans 12: 10 Be devoted to one another in brotherly love. Honor one another above yourselves. 11 Never be lacking in zeal, but keep your spiritual fervor, serving the Lord. 12 Be joyful in hope, patient in affliction, faithful in prayer. 13 Share with God's people who are in need. Practice hospitality. 14 Bless those who persecute you; bless and do not curse. 15 Rejoice with those who rejoice; mourn with those who mourn.
A shout-out today to all those true Christians who honor others.
By way of reminder, I've been busily writing even though you won't see the fruit of my labor for another few days.  ReKindle begins on Ash Wednesday, February 10th, and will be my devotional series for Lent 2016.