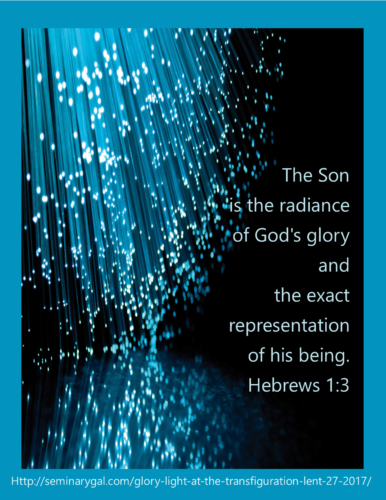 One of the most intriguing stories of the Bible is typically referred to as "The Transfiguration." Up on a high mountain, Jesus was revealed as the Son of God by none other than the Father Himself. It's a glory story recorded in all 3 Synoptic Gospels (Matthew 17:1-9, Mark 9:1-9, and Luke 9:28-36). That ought to clue us in to how important an event this was. And it's not the first time the Father proclaimed Jesus as His Son. Like bookends, the proclamation by God at Jesus' baptism (Luke 3:21-22), and as Jesus begins His journey to the Cross is meant to encourage our faith. Jesus' glory was veiled when the Word was made flesh…from His incarnation to inauguration of His ministry and all the way to the tomb. He still had the glory. We just couldn't see the light of glory contained within Him.
Luke 9: 23 Then he said to them all: "If anyone would come after me, he must deny himself and take up his cross daily and follow me. 24 For whoever wants to save his life will lose it, but whoever loses his life for me will save it. 25 What good is it for a man to gain the whole world, and yet lose or forfeit his very self? 26 If anyone is ashamed of me and my words, the Son of Man will be ashamed of him when he comes in his glory and in the glory of the Father and of the holy angels. 27 I tell you the truth, some who are standing here will not taste death before they see the kingdom of God." 28 About eight days after Jesus said this, he took Peter, John and James with him and went up onto a mountain to pray. 29 As he was praying, the appearance of his face changed, and his clothes became as bright as a flash of lightning. 30 Two men, Moses and Elijah, 31 appeared in glorious splendor, talking with Jesus. They spoke about his departure, which he was about to bring to fulfillment at Jerusalem. 32 Peter and his companions were very sleepy, but when they became fully awake, they saw his glory and the two men standing with him. 33 As the men were leaving Jesus, Peter said to him, "Master, it is good for us to be here. Let us put up three shelters– one for you, one for Moses and one for Elijah." (He did not know what he was saying.) 34 While he was speaking, a cloud appeared and enveloped them, and they were afraid as they entered the cloud. 35 A voice came from the cloud, saying, "This is my Son, whom I have chosen; listen to him." 36 When the voice had spoken, they found that Jesus was alone. The disciples kept this to themselves, and told no one at that time what they had seen.
The passage in Luke shows how light and the glory are connected and identifies the purpose of The Transfiguration in the lives of disciples. It's meant to encourage us that even though Christ was veiled among us, He won't be when He returns. Jesus connects the glory of His return, seeing the Kingdom of God, following Christ Jesus into suffering with a glimpse of heavenly reality in His Transfiguration.
Fun fact of light: Light can transmit information! Fiber optic cables take communications and data, turn it into light pulses so it can travel vast differences. According to Life Wire, "Compared to wired cables, fiber optic cables provide higher bandwidth and can transmit data over longer distances…[and] support much of the world's internet, cable television and telephone systems."
Professor Bill Hammack of the University of Illinois-Urbana explains how they work in this interesting video.
For further thought:
Read Hebrews 1:3 "The Son is the radiance of God's glory and the exact representation of his being." How did the transfiguration reveal God's glory with the light of God spanning the distance of heaven to earth perfectly through Jesus?
Read Philippians 2:3-11 and 1 Peter 4:13 "But rejoice that you participate in the sufferings of Christ, so that you may be overjoyed when his glory is revealed." Why might the Father have proclaimed Jesus as His Son at Jesus' baptism and before Jesus went the Cross? How can suffering be a pathway for light, through which we see God's love, mercy, and glory?
Father God, how we praise You for Your plan of salvation and the perfect way You communicated Your love and mercy in Jesus Christ our Savior. Thank You for loving us, Lord Jesus. Thank You for the Holy Spirit so we can understand Your power and righteousness through glimpses of Christ who is the radiance of Your glory and the Light of the World. Amen