I wonder how angels feel about the task of sharing news that doesn't impact them and they don't even understand. "A Savior has been born to you." Why to people and not to angels, too? (The angels might ask, "What about us?")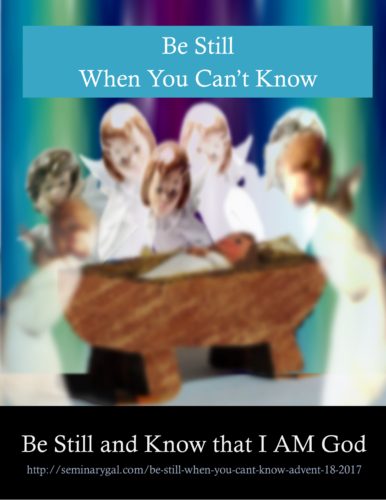 Luke 2:10 But the angel said to them, "Do not be afraid. I bring you good news of great joy that will be for all the people. 11 Today in the town of David a Savior has been born to you; he is Christ the Lord. 12 This will be a sign to you: You will find a baby wrapped in cloths and lying in a manger."
"He is Christ the Lord."
How is this all going to happen? How will He save? How will He be the Christ? How can He possibly be the Lord?
Just look at Him:
He's a baby.
Here's the thing though: angels are created beings. They have many of the same limitations we have. And Scripture even tells us that the angels long to know. They wait in eager anticipation.
1 Peter 1:10 "Concerning this salvation, the prophets, who spoke of the grace that was to come to you, searched intently and with the greatest care, 11 trying to find out the time and circumstances to which the Spirit of Christ in them was pointing when he predicted the sufferings of Christ and the glories that would follow. 12 It was revealed to them that they were not serving themselves but you, when they spoke of the things that have now been told you by those who have preached the gospel to you by the Holy Spirit sent from heaven. Even angels long to look into these things."
And yet Scripture also says that we don't have the full picture now. Nor do the angels. We're all in the same boat. 1 Corinthians 13: 8 "Love never fails. But where there are prophecies, they will cease; where there are tongues, they will be stilled; where there is knowledge, it will pass away. 9 For we know in part and we prophesy in part, 10 but when perfection comes, the imperfect disappears…12 Now we see but a poor reflection as in a mirror; then we shall see face to face. Now I know in part; then I shall know fully, even as I am fully known."
One of the great mysteries still unfolding is how and when the Jewish people will be grafted back in. We don't know. Angels don't know. But they long to. And maybe we should too.
* * *
Be Still, angels. It's not your job to know right now. Right now your job is to announce and to marvel.
Be Still. My plan is unfolding just as it is supposed to. You'll know when the time is right.
Be Still and Know that I AM God. I AM the God of angel armies and the God of Israel and the Gentiles. Romans 11:33 "Oh, the depth of the riches of the wisdom and knowledge of God! How unsearchable his judgments, and his paths beyond tracing out!"
Be Still and Know that I AM God. Angels, Be Still, be patient: you'll have a front row seat when the time is come for My Son to return. Matthew 25:31 "When the Son of Man comes in his glory, and all the angels with him, he will sit on his throne in heavenly glory."
Questions for Reflection:
How likely are you to want to be in-the-know?

A

re you content with curiosity?

Have you ever been asked to do or convey something that wasn't explained fully, knowing your job to be only a courier and not a teacher? How did that make you feel?
===
Still Christmas, Advent 2017 Devotionals began December 3, 2017 and are archived from that date.