How well do you handle interruptions? Some are diversions, just brief strays of thought, some are bed rest from illness requiring lifestyle adaptation, some are from your child asking a question and your wanting to respond with love instead of irritation, but some are when God interrupts. His demand a thoughtful response. God's interruptions are unsettling and can be life-altering. Hold that thought as we begin our journey into Still Christmas, our series for Advent 2017, by looking at how to Be Still When God Interrupts.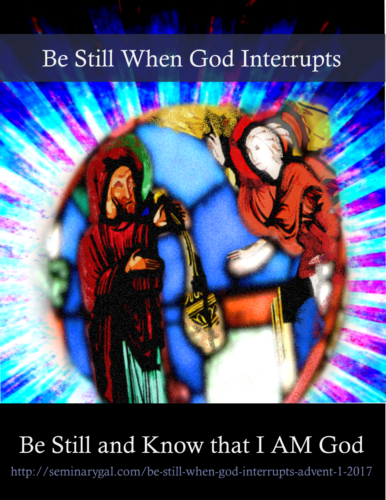 Poor Zechariah was just doing his job as the Christmas narrative from Luke begins (Luke 1:5-25).
He and his wife Elizabeth were ordinary people, holding a sorrow of being childless. Everything is ordinary, typical…full of observance, duty, and custom. But then God sends an angel to interrupt Zechariah as he's simply doing the routine work of a priest:
Luke 1: 10 And when the time for the burning of incense came, all the assembled worshipers were praying outside. 11 Then an angel of the Lord appeared to him, standing at the right side of the altar of incense. 12 When Zechariah saw him, he was startled and was gripped with fear.
Has God ever scared the living daylights out of you? I totally get why Zechariah would be afraid.
13 But the angel said to him: "Do not be afraid, Zechariah; your prayer has been heard. Your wife Elizabeth will bear you a son, and you are to give him the name John. 14 He will be a joy and delight to you,
To a barren couple, this no doubt longstanding prayer being answered could have elicited many responses. First, maybe "Thank you," but when you're gripped with fear you don't always think of the best answers on the first try. Zechariah's was a total miss.
18 Zechariah asked the angel, "How can I be sure of this? I am an old man and my wife is well along in years."
Yeah, wrong answer. Kind of destroys that whole life-of-faith thing that pastors and priests try to uphold. Asking God for probabilities, confidence levels, certainties that He's not just shining you on, it demonstrates that you have no clue about faith even though you're a priest.
19 The angel answered, "I am Gabriel. I stand in the presence of God, and I have been sent to speak to you and to tell you this good news. 20 And now you will be silent and not able to speak until the day this happens, because you did not believe my words, which will come true at their proper time."
God's response of "Silence him" is fitting. Time out: Be Still.
Zechariah's response to when God interrupts was to ignore the immediate blessing and ask the Great I AM for reasons why he should believe God.
Don't be that guy.
* * *
Be Still. I AM in possession of knowledge you don't have.
Be Still. I AM not asking you to do miracles, only to believe that I can.
Be Still and Know that I AM God. I AM not limited by laws of nature or worldly norms. My ways are not your ways.
Be Still and Know that I AM God. Your heart can find stillness and rest in Me. Isaiah 55:6 Seek the LORD while he may be found; call on him while he is near…"For my thoughts are not your thoughts, neither are your ways my ways," declares the LORD. 9 "As the heavens are higher than the earth, so are my ways higher than your ways and my thoughts than your thoughts."
Questions for Reflection:
Read all of Isaiah 55:1-13. How does God interrupt with an invitation to abundant life?

What might be some reasons God interrupts our lives and calls us to silence and stillness?

Read Matthew 11:28-30. How does Jesus invite us to stillness?
Read all of John 6:22-59 about the Bread of heaven, especially

John 6:28 Then they asked him, "What must we do to do the works God requires?" 29 Jesus answered, "The work of God is this: to believe in the one he has sent."

What is the challenge of stillness in a world of works?
===
Still Christmas, Advent 2017 Devotionals began December 3, 2017 and are archived from that date.