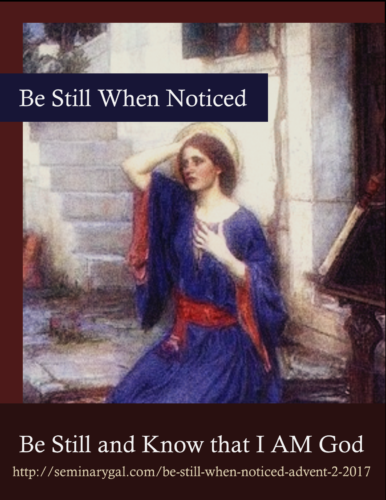 Most of us go through life as a matter of routine. We blend into the backdrop of sunrises and sunsets, each day not all that different from the others. Many of us seek to blend in, not wanting to risk being innovators, vanguards, or even color outside of the lines because standing out invites criticism or judgment or speeding tickets.
Mary was just minding her own business. She was following the usual order of dutiful daughter, betrothal and marriage to a nice guy like Joseph, hopefully to motherhood…like all the other Jewish girls. That's when God takes notice of her. Not that He couldn't find her before, even in a nowhere place like Nazareth. It's just her time had not come to be noticed, singled out, until now.
Luke 1:26 In the sixth month, God sent the angel Gabriel to Nazareth, a town in Galilee, 27 to a virgin pledged to be married to a man named Joseph, a descendant of David. The virgin's name was Mary. 28 The angel went to her and said, "Greetings, you who are highly favored! The Lord is with you." 29 Mary was greatly troubled at his words and wondered what kind of greeting this might be. 30 But the angel said to her, "Do not be afraid, Mary, you have found favor with God. 31 You will be with child and give birth to a son, and you are to give him the name Jesus. 32 He will be great and will be called the Son of the Most High. The Lord God will give him the throne of his father David, 33 and he will reign over the house of Jacob forever; his kingdom will never end."
Mary was a "nobody special" as far as the world could tell. God sees her differently. Like with King David (1 Samuel 16:7), God sees her heart. An angel comes and interrupts her life (just like he did with Zechariah) and turns her normal upside down.
Be Still, Mary. God has taken notice of you. You are highly favored.
(Being noticed upended everything she'd been working toward.)
God assigned a huge responsibility and never really asked if it was in her plans. He didn't have to. He'd been watching her all her life and knew exactly what her response would be.
* * *
Be Still, Mary. I have been preparing you for this moment since before you were born.
Be Still. I've noticed your heart of faith and have set you apart as a beacon for generations as the mother of the Only-Begotten Son of God.
Be Still and Know that I AM God. The promise I made to David "Your house and your kingdom will endure forever before me; your throne will be established forever'" (2 Samuel 7:16) will be fulfilled in the Child you will bear.
Be Still and Know that I AM God. Your faithfulness has not escaped My notice. Now, dear Mary, get ready to marvel: "No eye has seen, no ear has heard, no mind has conceived what God has prepared for those who love him" (1 Corinthians 2:9)
Questions for Reflection:
Would you say your gut reaction to being singled-out would be "great!" or "uh-oh"? Would it depend? Depend on what and whose assessments?

What do you think of routines and predictability? What's the first word you would assign to routines?

What types of feelings do routines, predictability, and expectations elicit? How much depends on personality vs. human nature?

When things are routine or predictable, what does that mean for feeling like one controls one's own destiny?

What are some distinctions between a command to "Be Still" and a desire to "Be in Control"? What would be God's desire for you?

Psalm 143:10 Teach me to do your will, for you are my God; may your good Spirit lead me on level ground.
===
Still Christmas, Advent 2017 Devotionals began December 3, 2017 and are archived from that date.