Last year, my clematis that I bought grew so big that they topped the trellises I had on the side of my garage and cascaded back toward the ground.  This year, I'm giving them support worthy of their vigor and beauty.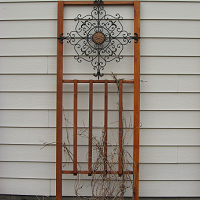 Since it's early spring, I know now is the perfect time to make the change and to provide new garden structures.  Originally, I bought some wrought iron wall art that I was going to hang on the wall and pull the clematis vines up to the ornamental plaques.  But then, I began to think about rust stains developing on my siding and decided to consult my neighborhood Home Depot for better options instead.
While I was there, an idea germinated—I'd build my own trellises and use the wall art as a decorative insert. With the help of my friends at the Vernon Hills Home Depot, I now have three "Dream Trellises" that I built myself.
Better yet, I didn't have to cut a thing.
With 2-8 foot lengths of cedar, 3 2×2 cedar balusters and 4 angled cedar balusters for each trellis loaded in my car, I went home to begin construction.  I am known for my garden.  I am not known as a handy person so I became a neighborhood attraction.  Everyone wondered, "What on earth is Barb building?" 
One of my neighbors said "Wow, it's wonderful seeing a woman confident with power equipment!"   I just smiled because a power drill outfitted with a Phillips-head screwdriver bit hardly qualifies as major power equipment but I was proud of myself for building my own trellises and saving a ton of money over buying such substantial cedar trellises, and having them shipped to my home or renting a vehicle to get them from some garden boutique—even if it's for the sake of 3 lovely clematis.
I laughed inside knowing that no one would know that I didn't have to cut anything or touch my husband's circular saw. Baby steps for Barbara, I guess.  With my ready-cut deck pieces and using deck screws into the reverse side, I was able to have secure construction and a pretty finished front surface. 
After constructing the wooden pieces, I decided to complete the ornamental look by staining the cedar to enhance the durability.  Using a natural wood stain, I applied two coats of stain on the next cooperative weather day (above 40 degrees).
Then, I hung my wall art on each trellis using deck screws and positioned the trellises behind these clematis that are just now beginning to leaf out.  I can't wait to show you how pretty it all looks when my clematis bloom in the late spring/early summer.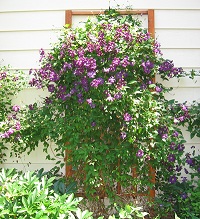 ****
This is how it looks in full bloom.  The iron wall art is nearly hidden by the abundance of vining leaves and flowers.  In the winter, I cut the vines back so that the wall art shows for winter decoration.  With three trellises and clematis on each, the entire side of my garage is filled with blossoms.  A lovely season of year…