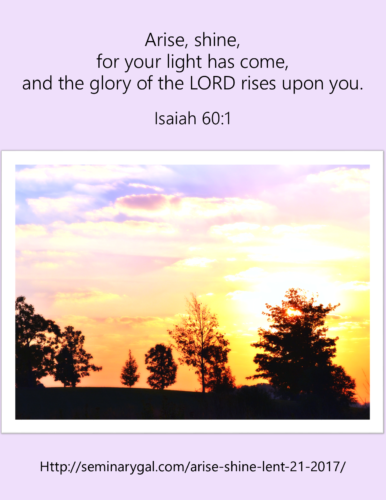 Isaiah 60:1 Arise, shine, for your light has come, and the glory of the LORD rises upon you. 2 See, darkness covers the earth and thick darkness is over the peoples, but the LORD rises upon you and his glory appears over you. 3 Nations will come to your light, and kings to the brightness of your dawn. 4 Lift up your eyes and look about you: All assemble and come to you.
Sunrise is a beautiful time of day. One of the joys of the changing seasons and the practice of changing our clocks with daylight savings time is that a sunrise can remain a regular part of my morning ritual. Even in the dog days of summer when the sun rises super early, I'm always up for it. What about you? Not everyone is a "morning person" but we can all arise and shine!
Fun Fact of Light: Sunlight and you! While we're living in an age of sunscreens, skin cancer, and dermatologists warning about the negative effects of the sun, there are benefits too. Aside from our bodies naturally producing Vitamin D in response to sunlight, a moderate exposure to the sun in the early hours of the day when the UV rays are mitigated by the angle of the sun (i.e. the greater amount of atmosphere the rays must pass through)–this can actually help with your mood if you suffer from a condition known as seasonal affective disorder (SAD). According to WebMD, "Experts aren't sure what causes SAD. But they think it may be caused by a lack of sunlight. Lack of light may:
· Upset your "biological clock," which controls your sleep-wake pattern and other circadian rhythms.
· Cause problems with serotonin, a brain chemical that affects mood."
Why is it good to arise and shine in a physical sense? Health and safety! Just like in the spiritual sense! It's true that you can get a sunburn at any time of sun exposure, but according to the EPA, "Nearly half of UV radiation is received between 10 a.m. and 4 p.m., when the sun's rays are the strongest" … so sunrise exposure is preferable because "The atmosphere has a very strong effect on UVB rays – where there is less ozone, more UVB radiation can reach Earth's surface. UVB rays cause sunburns, skin cancer, skin aging, snow blindness and can lower your body's ability to fight illness."
For further thought:
Do you arise and shine? Even if you're a late sleeper, do you start your day with the Word of God and/or in prayer? There's no better way to have the glory of the LORD rise upon you and be a bright light for those you know. There's no greater protection for your soul and no better aid for your spirit than to arise and shine.
Thank You, Lord Jesus, for Your Light which shines on us and illuminates our hearts. Thank You for the light of knowledge, light of hope, and light of salvation we find in You. Your love is perfect. Your light is glorious! We thank You for Your goodness and mercy! Amen.