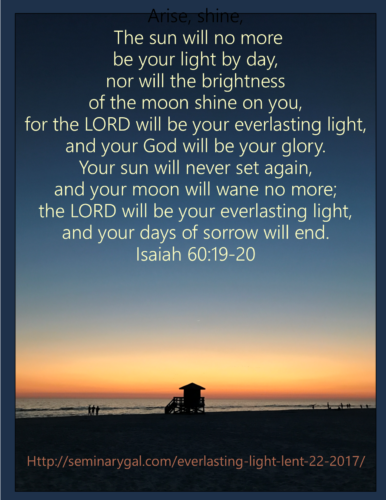 Isaiah 60:19 The sun will no more be your light by day, nor will the brightness of the moon shine on you, for the LORD will be your everlasting light, and your God will be your glory. 20 Your sun will never set again, and your moon will wane no more; the LORD will be your everlasting light, and your days of sorrow will end. 21 Then will all your people be righteous and they will possess the land forever. They are the shoot I have planted, the work of my hands, for the display of my splendor.
Among the prophecies of the Old Testament and the Scriptures yet to be fulfilled in the New Testament, there is the beautiful idea that someday we will not need a sun or a moon to be our light. God Himself will … not just provide … but actually be our light.
It is really a foreign concept given how we are so used to the regularity of sunrises and sunsets, moonrises and moonsets. So accustomed are we, that oftentimes, we just can't imagine it.
If we stop to think about it, though, there are plenty of ways we have light without an obvious sun in the sky and at times of the new moon when the moon is not visible. We can have light at the predawn and post-sunset hours, a time period known as twilight. So we should not be surprised that in everlasting light, the sun will never set, the moon will never wane, but rather we'll have the everlasting light of God as He lights our way Himself!
Fun Fact of Light: Twilight. The US Navy has precise definitions of twilight and even separates it into 3 categories or "intervals" of time: Civil Twilight, Nautical Twilight, and Astronomical Twilight.
"Twilight: Before sunrise and again after sunset there are intervals of time, twilight, during which there is natural light provided by the upper atmosphere, which does receive direct sunlight and reflects part of it toward the Earth's surface."
For Further Thought:
What differences will be detectable when the everlasting light of God is full-on, never setting?
What does light have to do with glory and splendor?
What happens to sorrow in everlasting light? How might bringing our sorrows to the LORD today help us with the ones we have right now?
Father God, we praise You for the everlasting light of the New Jerusalem provided by You as a display of Your splendor. We thank You for Your promise of restoration, redemption, and righteousness. Keep our focus looking ahead to that day of everlasting light. Amen.