Luke 1:35 And the angel answered her,
The Holy Spirit will come upon you, and the power of the Most High will overshadow you; therefore the child to be born will be called holy—the Son of God.(ESV)
Hurrying to the response will make us overlook something really important:  God answered.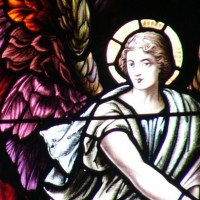 Angels are created beings.  Their role was to mediate heavenly revelation from God to man (prior to the coming of the Christ and nowadays the indwelling of His Holy Spirit), to help the pious, and in the future to do God's will with respect to judgment.  Basically, they are servant messengers of God.  So when the angel answered, it was because God gave Gabriel an answer to give.
Consider the compassion of God.  Rather than just assigning a duty to Mary and expecting her to do it (like a slave), God brings Himself near to Mary and has compassion upon her.  He treats her like a beloved child.
He listened.  He answered.
God understood that the news would be hard for Mary to hear and to understand.  Had the answer been informationally complete, it would have overwhelmed her.  It would be too hard for any human being to understand.  It is reminiscent of Jesus' words to His disciples in John 16:12, "I have much more to say to you, more than you can now bear."
The virgin conception was not part of the Jewish expectation.  It stood in stark contrast to the pattern of humanity since Creation.  So God unfolded the mystery in beautiful and remarkably simple terms.  You can hear His love as an undercurrent, knowing that even the smartest among us is incapable of making what is supernatural into something rational.
With gentleness and compassion, He answered.
What is hard to understand in your life today?
Is there anything you're finding difficult to bear?
How might knowing that God hears your prayers, knows your confusion, has compassion upon your fears, and also that He answers minister to you in this moment?