Prayer focus: Resurrection hope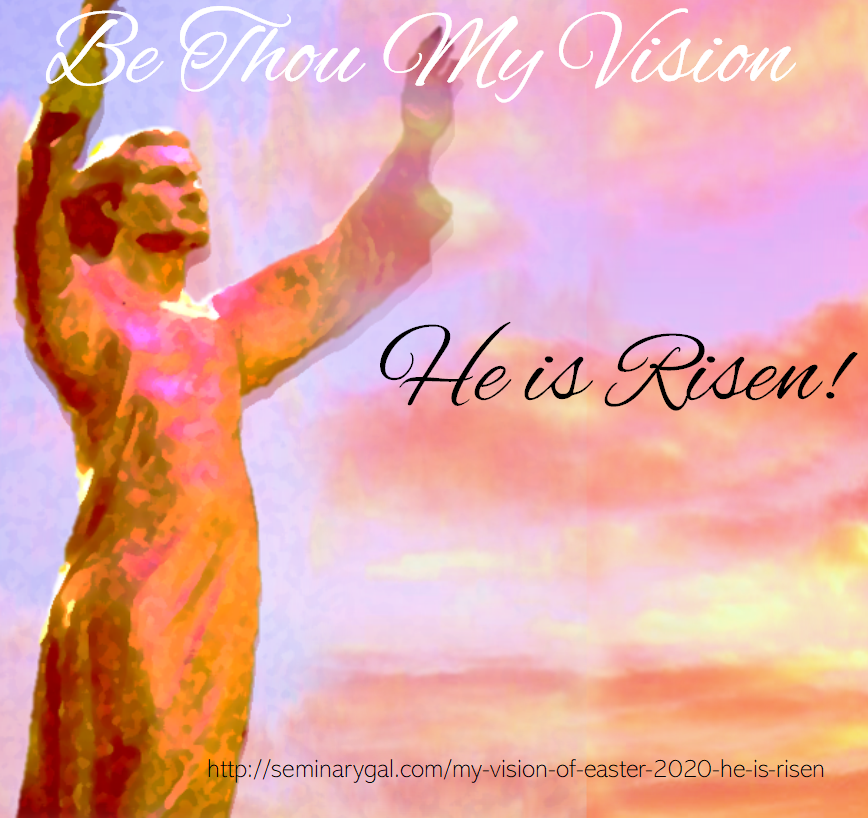 Easter greetings from your Seminary Gal! He is RISEN! He is RISEN indeed! That would be among the greetings spoken if we were all able to gather in worship at our local churches today. But for many of us, maybe even most of us, today will be Easter in seclusion due to the coronavirus. We are blessed with an Internet and better yet with a Holy Spirit who would intercede for us even if the grid went down.

Admittedly for some, the truth is that the isolation and quarantine turns to loneliness. Jesus understands. He's been there and His Resurrection speaks to you: "A time is coming and in fact has come when you will be scattered, each to your own home. You will leave me all alone. Yet I am not alone, for my Father is with me. I have told you these things, so that in me you may have peace. In this world you will have trouble. But take heart! I have overcome the world." (John 16:32-33)

Many of us just hate uncertainty–we don't know how long this will last. The Resurrection tells us not to worry about days and hours. "I am with you always, to the very end of the age" (Matthew 28:20) He says.

Others find themselves in despair, maybe because their economic circumstances have been turned upside down. The Resurrected One has proclaimed, "Your heavenly Father knows that you need them. But seek first His kingdom and His righteousness, and all these things will be given to you as well." (Matthew 6:32-33)

Some are having anxiety over the rapid removal of their normal support systems. Assurances of love seem so far away. The Resurrection speaks to you: "But very truly I tell you, it is for your good that I am going away. Unless I go away, the Advocate will not come to you; but if I go, I will send Him to you." (John 16:7) The Holy Spirit is our Advocate and praise the Lord, He is the God of all comfort.

Some have died due to this virus. The Resurrected One reminds us that the dead in Christ do not remain dead. They are just not here. "Truly I tell you, today you will be with me in paradise." (Luke 23:43) "I am the resurrection and the life. The one who believes in Me will live, even though they die; and whoever lives by believing in Me will never die. Do you believe this?" (John 11:25-26)

And why? Because the Resurrected One paved the way, "The dead in Christ will rise first. After that, we who are still alive and are left will be caught up together with them in the clouds to meet the Lord in the air. And so we will be with the Lord forever." (1 Thessalonians 4:16-17)

The truth is that I've had a very difficult time writing this year's devotionals. My heart and mind have been burdened by many things in addition to the virus. Understanding so little. Holding out hope for so long! Trying to remain faithful and looking beyond the darkness of the many days and the legion of evils mankind can do to each other, asking as so many prophets and men of God have done, wondering why evil prospers. It seems like bad people get away with it and good people lose. It seems like people who hurt others face no accountability and those who try to help are passed over and ridiculed. What kind of world is this we live in??? But when the dizzying pace of an anxious mind takes my breath away, I calm myself as I pray to the Resurrected One who will reign forever. He tells me to hold on. The story's not over. It's not history being made, it's His Story. There is resurrection after the tomb. Life after death. Hope after the storms of life.

"For as in Adam all die, so in Christ all will be made alive. But each in turn: Christ, the firstfruits; then, when He comes, those who belong to Him. Then the end will come, when He hands over the kingdom to God the Father after He has destroyed all dominion, authority and power. For He must reign until He has put all His enemies under His feet. The last enemy to be destroyed is death." (1 Corinthians 15:22-26) The Resurrection tells me death couldn't hold Jesus and it won't be able to hold us down either. A day is soon coming when Jesus returns for His people and we'll see the Resurrected One who will usher in a future with no more mourning or crying or death or pain. He will be all the Love and Light we'll need for eternity.

Hold onto your hope. He is RISEN. He is RISEN indeed!