The people walking in darkness have seen a great light; on those living in the land of the shadow of death a light has dawned. (Isaiah 9:2)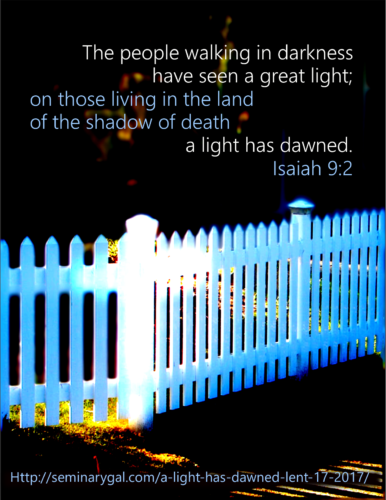 Throughout this devotional series, we've been looking at Light: There's Nothing Like It. It's more than an amazing creation. It's a great metaphor for so many aspects of the Christian faith. Perhaps none so profound as this prophecy from Isaiah 9, foretelling the birth of the Messiah and the role He would have.
Jesus, the Light of the World, brings salvation to a people who have been living in darkness.
Indeed, a light has dawned.
Think about how many ways we use phrases, clichés, and idioms in the English language to convey a time of ignorance turning into a time of knowledge. We might say that someone sees the light. An idea has dawned on them. A light bulb went on. The secret needs some sunshine, or an expert to shed light on a situation. A light at the end of a tunnel. Or to bring something to light.
A light dawned upon the Messianic expectations in the birth, life, and death of Jesus—human expectations of who He was and what He would do. Those expectations unmet led a cheering crowd from Palm Sunday to call for His crucifixion on Good Friday. It was only after His resurrection that the light truly dawned on His disciples and they began to understand God's desire that all mankind would be saved, not just the chosen few.
Fun Fact of Light: Because light has direction as waves, it can also be filtered kind of like beams of sunlight streaming through blinds or a picket fence. Polarized sunglasses operate on the same principle, blocking some rays but allowing some to pass through: "Light waves from the sun, or even from an artificial light source such as a light bulb, vibrate and radiate outward in all directions. Whether the light is transmitted, reflected, scattered or refracted, when its vibrations are aligned into one or more planes of direction, the light is said to be polarized."
The fun videos in the prior link and another group here demonstrate the impact of polarization upon light and even colors of light: http://www.physicsclassroom.com/class/light/Lesson-1/Polarization .
For further thought: A concept called Universalism states that all people will be saved, but that's not what the Bible teaches. Just as a light source reaches out in all directions, not all waves will pass through a polarized filter. The Bible says that some refuse to see the light and sadly, rebel to the very end. Only those who confess Christ are saved. How does faith in Jesus act as a polarizing filter?
For insight, read Matthew 10:22 All men will hate you because of me, but he who stands firm to the end will be saved.
Thank You, Father, for Your plan of salvation as for the Jews, but a light to the Gentiles, too. We praise You for Your perfect plan. We praise You for this mystery which unfolded at the birth, life, and death of Your Son Jesus and for the way You will bring the dawn of a new day when He returns and we understand fully. We ask that You would use us to bring the light of the Gospel to a world in darkness so that among those who do not presently believe, a light will dawn and they will see Your goodness and mercy. Amen.