Your word is a lamp to my feet and a light for my path. (Psalm 119:105)
Surrounded by a world of darkness, a lamp isn't just helpful, it's necessary for vision, for safety, and for direction on the way to go.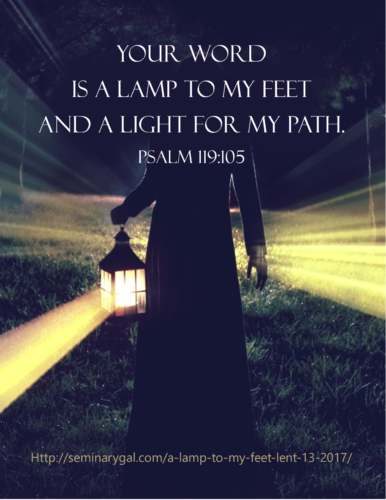 About the need for a lamp, I have a fond childhood memory that began with a terrible storm that came through Chicagoland when I was in the 1st or 2nd grade. Chicago is not called the Windy City for nothing and throughout Illinois, some storms produce enough twisters to consider it part of "Tornado Alley." During one of these storms, the electric power went out at our house.
It was night. It was dark. The wind was howling. It was truly scary.
My dad brought out a kerosene lantern and set it on the table.
I'm not sure why we had it or when we got it. But I remember his setting it on the table in the kitchen and it lit the entire room. Our whole family played board games since there wasn't much else to do to pass the time as a family while we distracted ourselves from the sound of the storm.
Light can make all the difference.
True to the title of the devotional series for Lent, there's nothing like it to our physical sight, in the realm of physics, of nature, or as a parallel to spiritual sight. The Bible tells us that God's Word is a lamp for our feet and a light for our path. With it, we can see. We can avoid stumbling blocks. We can walk in safety and confidence, and know where we're going.
Just as all our neighbors wondered if we had power because they could see the light from our kerosene lantern, people will wonder why our lives have power, direction, and purpose when we walk by the light of His Word as a lamp to our feet.
Fun fact of light: The Miner's Cap Lamp. According to the National Museum of American History,
The depth, the dark, and the dangers inherent in mining created a uniquely dangerous working environment for the miner. Miners faced death from collapsing mines, oxygen deprivation, and haulage accidents, with the specter of fatal lung disease remaining even after the miner had left the mines. But the most instantaneous and catastrophic loss of life was caused by explosions due to miner's lamps igniting methane gas.
A miner's light was essential to their labor. Without light there was no sight, no work, and no wages. But this essential light was also lethal. Open flames could ignite the inflammable gas especially prevalent in coal mines …
After a series of mining explosions from open flames Congress authorized the U.S. Bureau of Mines (1910) which "turned their attention to the new technology of electric lamps in an effort to curtail accidents through the elimination of flames and an improvement in lighting. In 1915 the Bureau approved the MSA Edison Flameless Electric Miners' Cap Lamp, beginning the age of electric mine illumination that correlated with a steady decrease in mining accidents."
For further thought:
Consider that God's Word as a lamp brings safety and hope yet there's also something dangerous about it. It's dangerous to a way of life that grieves God when employed by one who genuinely desires to follow Christ.
Read

Ephesians 4:17 So I tell you this, and insist on it in the Lord, that you must no longer live as the Gentiles do, in the futility of their thinking. 18 They are darkened in their understanding and separated from the life of God because of the ignorance that is in them due to the hardening of their hearts. 19 Having lost all sensitivity, they have given themselves over to sensuality so as to indulge in every kind of impurity, with a continual lust for more. 20 You, however, did not come to know Christ that way. 21 Surely you heard of him and were taught in him in accordance with the truth that is in Jesus. 22 You were taught, with regard to your former way of life, to put off your old self, which is being corrupted by its deceitful desires; 23 to be made new in the attitude of your minds; 24 and to put on the new self, created to be like God in true righteousness and holiness.

A miner's livelihood was based upon the weight of coal mined. Considering the reward of light for our path, can we see why a miner, like a Christian, might consider productivity a worthwhile tradeoff for the danger of having a lamp to light our way and make us effective?
Thank You, Lord Jesus, for the convicting power of Your Holy Spirit. For the way He applies Your Word to our lives as a lamp to our feet. For the way He guides us toward righteousness and preserves us from the dangers and stumbling blocks. May we always have teachable hearts and spiritual sight in Christ. Amen.