If the Christian walk is more like a marathon than a sprint, a second-wind is a welcome feeling. The moments just prior to the second wind, not so much.
But there's nothing like a crowd of supporters to cheer a person on when running a race. It's better than having a shot of espresso or an adrenaline rush which get in to power your system until past the peak and then oh, what a letdown. A crowd of supporters cheering in an ongoing encouragement don't peak and valley. Their encouragement is as perpetually inspiring as the crowd itself.
Such is the case with this great cloud of witnesses the author of Hebrews mentions. Those witnesses in heaven testify to us forever the power of persevering to the end of earthly life and into the promise of the next.
It's encouragement to peel sins off our lives and throw away their burdensome weight that keeps us down and holds us back. The Christian is forgiven of these things and there's no need to hold onto them anymore. The chains have been broken and we can run shackle-free.
Hebrews 12:1 Therefore, since we are surrounded by such a great cloud of witnesses, let us throw off everything that hinders and the sin that so easily entangles, and let us run with perseverance the race marked out for us. 2 Let us fix our eyes on Jesus, the author and perfecter of our faith, who for the joy set before him endured the cross, scorning its shame, and sat down at the right hand of the throne of God. 3 Consider him who endured such opposition from sinful men, so that you will not grow weary and lose heart.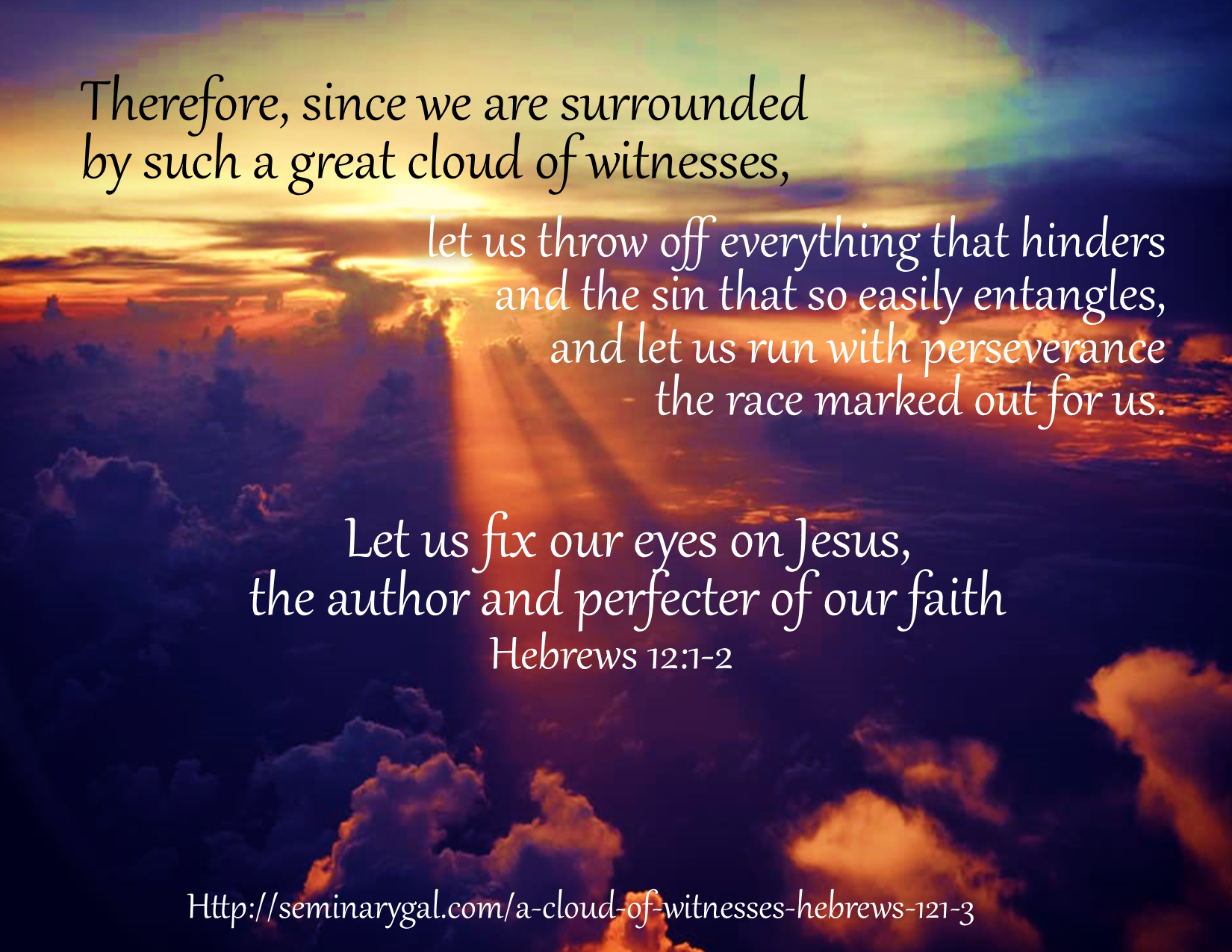 Thinking again on our topic of absolutes:
Christians, are you weary of all the political? Pray to align yourself with God, then vote, and then you can throw it off. A whole heaven of witnesses endured the political of their day and are encouraging your eyes to have a laser-like attention on Christ all the way to the eternal finish line!

Christians, are you sick of the attack ads? Throw them off and see how Jesus kept His complete focus to the very end, even against opposition, and won the prize for us!

Christians, are you exhausted by the constant negativity? Throw it off and see that Jesus died so that you could be positively free! Completely free! Absolutely free!
That great cloud of witnesses will still be there. Yes, even after these midterm elections with their tendency to draw our collective gaze away from our Savior. Yes, the cloud of witnesses will still be cheering, still testifying, and still standing with absolute encouragement, calling you to endure too!
===
Gracious Father, thank You for the cloud of witnesses who have suffered and died for the sake of the Gospel of Your Son Jesus Christ! Thank You for preserving Your saints throughout the generations in all times, even ones that have been highly-charged political times in world history. Thank You for Your goodness and mercy, the forgiveness of Your Son Jesus! Help us to see our sins for what they are, for how much they grieve You, and grant us the strength to do what glorifies You. In Jesus' Name. Amen.