As a general rule, we spend plenty of time in self-reflection, typically about things that don't matter.
I'd like to offer a brief word about Lent and the devotional series beginning Ash Wednesday (February 13, 2013): Lent is a time of self-reflection as we ponder our need for a Savior.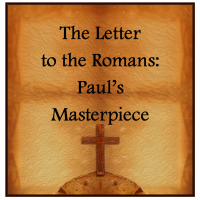 Lent is different than just thinking about ourselves because our focus is on the most important decision we will ever make: to admit both our spiritual poverty and our need for God to save us out of it.
It is this reason I chose The Letter to the Romans for this year's series.  It is Paul's Masterpiece as a presentation of the Gospel, addressing our spiritual poverty, our great need for a Savior, and the magnificent grace of God extended to us in Jesus Christ.
Given the depth of the book, each day's devotional will only scratch the surface of the passage.  They have been written to be approachable for people who know little about Jesus because I'm an evangelist at heart.
But there are also questions for further study aimed at satisfying those looking for the depth Romans has to offer.  I'd encourage you to read the entire passage via the link provided (or using your own Bible) and let God's Word minister to you fully.  Since we bless God more by giving up sinful human behaviors, each day's devotional will also feature a "Give It Up For Lent" idea that goes beyond butter, beef, and chocolate.  I hope the devotionals will bless you toward a meaningful Lenten season.
In His Grace, Barbara <><