All this thinking about drifting and stillness and considering it with the requirement to have a Sabbath made me process my thoughts via analogy. I'm in a sailboat. My sail is up but the wind is so light, it's almost imperceptible.
"Becalmed" is the term sailors use for this. Don't you love that? Becalmed.

Be Calmed.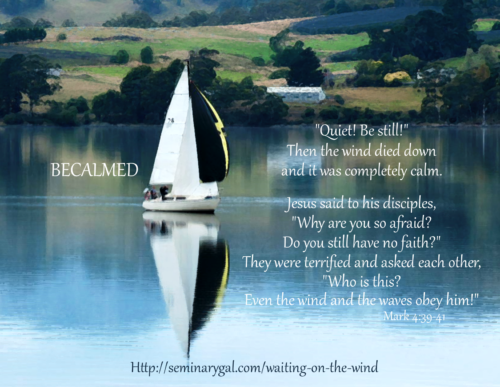 Blogger, businessman, former CEO of Thomas Nelson Publishers Michael Hyatt describes this situation: "Maybe there's no wind on the water, or it's blocked by land. Whatever the reason, our sails are slack and our boat just drifts along."
(Aaiieeee! Don't say that. I don't want to drift!!!)
Hyatt continues "I don't know of any way to entirely avoid slow periods like this, but I do know the one thing we should avoid when we get discouraged waiting for the wind. Don't take down your sails."
Waiting on the wind is an act of trust.
Ah, this is why I rest. Because I need to trust God all the time not just when I write and work. I need to trust God with my resting.
In Sea Shanties, Scurvy, and a Sailboat Regatta Without Wind, Captain Craig Forrest says, "When there's almost no wind, everything that we do on the boat makes a difference."
A sailboat without wind is at the mercy of the currents.
(I cannot control the currents.)
It occurred to me that I have three tools to keep me from drifting far away: a rudder, a compass, and of course, a paddle. Of these three, the compass belongs to God alone…who incidentally also controls the wind and the currents. I can know where I am in relation to Him by which direction I'm going. I cannot change the compass which is grounded in forces beyond my control. The compass does not steer the sailboat anyway. That job belongs to the rudder. The rudder's ability to change my direction works in conjunction with whatever wind exists to guide the sailboat. So long as God controls the currents and Jesus guides using the rudder, no matter how light the wind, I'm not drifting away. Because He's also the compass. I can trust Him to guide me to Himself. And the wind of the Holy Spirit works with the Father and the Son.
Mark 4:39 "Quiet! Be still!" Then the wind died down and it was completely calm. 40 Jesus said to his disciples, "Why are you so afraid? Do you still have no faith?" 41 They were terrified and asked each other, "Who is this? Even the wind and the waves obey him!"
I sit silently and remind myself that God gives this kind of rest when I've completed a task that took a lot out of me, when I've done all I can and the results are up to Him, or when I'm being prepared for a big task ahead. I can wait on the wind. I should trust Him.
Why? Because there's always that paddle—downright dangerous when unguided. It's the paddle allowing me to take matters into my own hands. I can give up on resting and instead work hard at paddling for power when I don't trust the wind to show up. I paddle for control of the direction I want to go when I want to ignore the compass or try to override the rudder.
What about you? Are you as familiar with the compass and the rudder as you are with the paddle? Do you know what it is like to be waiting on the wind?