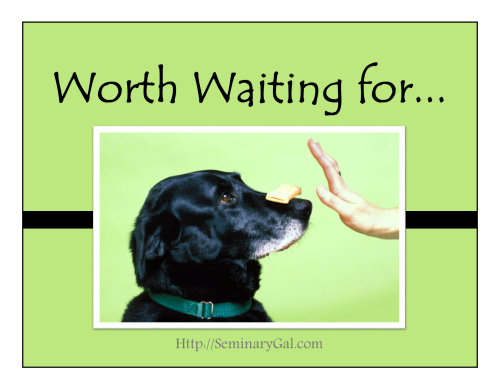 Ours is not a culture that likes to wait.  For anything really.  We aren't satisfied with 3-5 days of mailing time for bills so we do online payments.  Letters?  A thing of the past.  Email—for better and oftentimes for worse—is instant.  We aren't satisfied with the old stove-top Jiffy Pop that takes 3-5 minutes of preheating and another 5 minutes to pop up to look like a tinfoil turban.  All the while it needed our constant attention and activity to keep it from burning.  No, we need popcorn that pops quickly even while making its own bowl to save us time, and cleanup!  Now, it takes 2.5 to 3 minutes to pop and requires no effort from us at all and yet we stand in front of the microwave looking at the clock urging, "Come on!!!!"
We do it with popcorn and coffee makers, even the ones where we only have to wait for 1 cup at a time.  3 minutes is the new 15 in an instant age.  As Americans, we resist waiting in grocery store or pharmacy lines.  We hate waiting in traffic like the kid in the car commercial who is invited to imagine driving and ends up thinking of nothing but errands and waiting in traffic saying, "Move it; You're killing me."  We can't wait until we're 16, or 21, and many definitely don't want to wait until they're married.  But some things are ABSOLUTELY worth waiting for.
Worth Waiting For…for today and also way back when the Church was just getting started.
Today, we're going to look at the Book of Acts, something that's often called the Acts of the Apostles and rightfully seen as the Acts of the Holy Spirit, but we're going to look at it as Acts of the Holy Spirit and the Apostles because the 2 go hand-in-hand as God introduces His Holy Spirit and ushers in the spread of the Good News.  It takes both an act of God and the privileged participation by obedient man.  That's what the initial church needed to grow and it's what we need today:  Growth.  REVIVAL as an act of God and our privilege.  The Book of Acts tells us how to do it.  God's game plan as it were.
Acts has the unique role in the NT of being a bridge between the Gospels (Mt, Mk, Luke and John) and the letters to the churches that form most of the rest of the NT and all the letters Paul wrote.  Acts is unique as a bridge.
But it also forms kind of like an organizing structure, kind of like one of those over the door shoe racks that allows us to match left and right shoes.  On one side it tells of the missionary journeys of Paul as he begins to share the Gospel—by God's commission—to the Gentile world.  But it also forms a link to the letters Paul would then write to the churches as the church goes from Jerusalem to Judea to Samaria and to the ends of the earth. We can match journey and letter to form a visual pair. It's kind of like a subject index in that way, too.
I'd argue that in the opening verses of Acts 1, we see the key to unlocking the rest of the book.  That key is the Holy Spirit.  Jesus says to wait for Him.  He's worth waiting for.
The author of Acts is widely considered to be the Gospel writer Luke since both this book and the Gospel according to Luke are addressed to the most excellent Theophilus.  While the name means "one who loves God" most scholars think this is an actual person as Theophilus was a name not uncommon at the time of the writing of this which was around 30 years after the death of Christ.  The thing I want you to remember though, is that Luke, under the inspiration of the Holy Spirit writes an orderly account of Christ's life in the Gospel and of the Church's birth and grown in Acts.  The Holy Spirit breathed complete truth into both books and in these opening verses of Acts we see 3 really good reasons why the Holy Spirit is worth waiting for:
 The Father promised Him
Jesus taught Him
John the Baptist foretold Him
Let me just interrupt the line of thought here for a moment before we look into the Scriptures to say that I believe the Holy Spirit is the best kept secret of evangelical Christianity. 
Back in the day when I used to sing the doxology at church but didn't really know Jesus at all…I was a pew sitter not really a full-fledged Christian at the time…I remember thinking "Praise Father Son and Holy Ghost" and thinking…I don't really believe in ghosts.  The Holy Spirit isn't a ghost like Casper or ghost-busters.  He's called the Spirit, the Holy Spirit, the Spirit of God, the Spirit of Christ, Advocate, Counsellor, and yes, the Holy Ghost because He doesn't have a body.  He's Spirit…which is very helpful and we'll get to that in the next couple of weeks.  But for now, we don't need to treat Him like He's the crazy uncle of the Trinity where we put Him in a corner and hope He doesn't say too much.  His arrival is the greatest thing to happen to mankind since Jesus rose from the dead because:
The Father promised Him
Jesus taught Him
John the Baptist foretold Him
Open our eyes, Father to the truth contained in Your Word.  Help me to speak only as I should, Lord Jesus.
Acts 1:1 In my former book, Theophilus,
If you've been listening, you know that's the Gospel of Luke.
 I wrote about all that Jesus began to do and to teach
Notice it says Jesus began…began to do, began to teach…which implies that He's not finished yet with teaching us.
2 until the day he was taken up to heaven,
He began to do and teach until He went to heaven.  Well, it makes it a little hard to teach us from heaven, so Jesus didn't plan on leaving us without Himself for very long.
2 until the day he was taken up to heaven, after giving instructions through the Holy Spirit to the apostles he had chosen.
Do you see?  The Holy Spirit was already at work, communicating Jesus' instructions to the disciples Jesus had chosen. Jesus' succession plan was already in effect.  Before Jesus ever left, His Holy Spirit was already on the job.  So Jesus was teaching the disciples and then…
3 After his suffering, he showed himself to these men and gave many convincing proofs that he was alive. He appeared to them over a period of forty days and spoke about the kingdom of God.
Perhaps this is a good time to address the issue of Christianity being for mind-numbed ignorant people who have a blind and irrational adherence to some old irrelevant book.  People who need a CRUTCH.
Do you see that Jesus showed Himself?  That's physical evidence.  He gave many convincing proofs that He was alive.  That's appealing to the rational thought processes.  Empirical evidence.  Hard facts.  Not just once, mind you, but over a period of 40 days.  Time enough for questions and answers.  Time enough to form a habit of thinking deeply and rationally.  Time enough for the emotions traumatized by the Crucifixion and Resurrection to settle.  Time enough for any flights of fancy to have taken wing and gone south.  God doesn't ask that we believe on blind faith.  No.  Jesus gave evidence and spoke about the Kingdom of God for forty days.
4 On one occasion, while he was eating with them, he gave them this command: "Do not leave Jerusalem, but wait for the gift my Father promised, which you have heard me speak about. 5 For John baptized with water, but in a few days you will be baptized with the Holy Spirit."
 In one simple command of "Don't leave, but wait," Jesus outlines the three reasons the gift is worth waiting for: The Father promised it. Jesus spoke of it.  John the Baptist foretold it.
Let's take a short look at each of those before we conclude.  Why is the gift worth waiting for?
The Father promised it.  In numerous Scriptures and on numerous occasions actually. Isa 32:15. 44:3, Jeremiah 31:33-34,
Ezekiel 36:26 I will give you a new heart and put a new spirit in you; I will remove from you your heart of stone and give you a heart of flesh. 27 And I will put my Spirit in you and move you to follow my decrees and be careful to keep my laws.

Joel 2:28 'And afterward, I will pour out my Spirit on all people. Your sons and daughters will prophesy, your old men will dream dreams, your young men will see visions. 29 Even on my servants, both men and women, I will pour out my Spirit in those days.
The Father promised it and God is always good for what He promises.  Worth waiting for to be sure!
Jesus spoke of it…to show that the Father's promise was nothing new.  Jesus's teaching about the Holy Spirit, though, added a new personal dimension.
This gift worth waiting for would be Jesus' ongoing presence! 

John 14:15 "If you love me, you will obey what I command. 16 And I will ask the Father, and he will give you another Counselor to be with you forever– 17 the Spirit of truth. The world cannot accept him, because it neither sees him nor knows him. But you know him, for he lives with you and will be in you. 18 I will not leave you as orphans; I will come to you.

This gift worth waiting for would bring the ability and the divine necessity to testify about Jesus.  John 15:26 "When the Counselor comes, whom I will send to you from the Father, the Spirit of truth who goes out from the Father, he will testify about me. 27 And you also must testify, for you have been with me from the beginning.
This gift worth waiting for would be Jesus' way of imparting wisdom and power—originally confined to the Godhead would now be ours by way of this gift! 

John 16:15 All that belongs to the Father is mine. That is why I said the Spirit will take from what is mine and make it known to you.
If it weren't enough that the Father promised it which makes it a done deal, and that Jesus spoke of it which makes it right and true, we also get a beautiful explanation in that John the Baptist foretold it.
Luke 3:16 John answered them all, "I baptize you with water. But one more powerful than I will come, the thongs of whose sandals I am not worthy to untie. He will baptize you with the Holy Spirit and with fire.
The Holy Spirit is a gift from God, promised by the Father, spoken about by Jesus Christ, and foretold by John the Baptist.
This 3-fold witness underscores the importance of Jesus' command of "Don't Leave, but Wait!"  It transforms the waiting into a time of great anticipation.  Not of wasted time and frustration of time chewed away with nothing to show for it.  No, this will be a gift of such importance that the anticipation builds. 
So what's your take home message for today?
 Have you thanked God for this wonderful gift of the Holy Spirit?  This is Jesus' ongoing presence with you and with me.  Better than what the disciples had because the Holy Spirit comes to us when we believe and never leaves us, period.
Think about the times you spend waiting and for what?  Are you waiting for things worth waiting for? The Holy Spirit calls us to revisit our priorities and see where witness…the reason He came…falls in with our priorities.
Take time to pray and ask Jesus to build in you that same anticipation of something so amazing that it's worth waiting for.  Ask the Holy Spirit to reveal to you what YOUR role is in the building of the Kingdom, not only here at Plymouth and here in Racine, but to all the ends of the earth.  It's why He came.  I want for you to be giddy with excitement at what God is going to do!
Three out of 3 witnesses agree: Don't Leave.  But Wait!
The Father, the Son, and John the Baptist agree:  this gift from Father and Son—the ongoing presence of God in your life and mine—this is a gift definitely worth waiting for.  Let's pray.