What Should I Give Up for Lent? I actually get that question quite frequently.
Let's first say what giving something up for Lent doesn't mean:
It isn't a weight loss strategy to get ready for swimsuit season.
It isn't something to tell all your friends about so they'll think you're spiritual.
It isn't about giving up something that you really don't like anyway.
It isn't a competition to see who can give up something more substantial.
It isn't earning you a blessed thing.
It isn't making you more acceptable to God or more loved by Him.
It isn't making up for something bad you did.
When we examine those wrong conceptions of self-denial at Lent, we realize it comes down to our hearts. Our hearts need to be right with God and that means accepting He is Lord and we are not.
We don't pretend it's all about God when it's really all about that bod in a swimsuit.
We don't pretend it's all about sacrifice and self-denial when it's all about spiritual pride.
We don't pretend we're making a huge sacrifice when it's all a great big fraud because we never liked it anyway.
We don't pretend it's all about our relationship with God when the truth is it's about keeping up with the Joneses.
We don't pretend it's about sacrificing for God when it's about buying Him off to get more blessing for ourselves.
We don't pretend it's about humility when it's about trying to earn something that we can never buy.
And it's not about assuaging our own guilt.
Giving something up for Lent is about getting our hearts right with God because we know He's God and we're sinners and without Him, we're toast. The prophet Joel says it this way: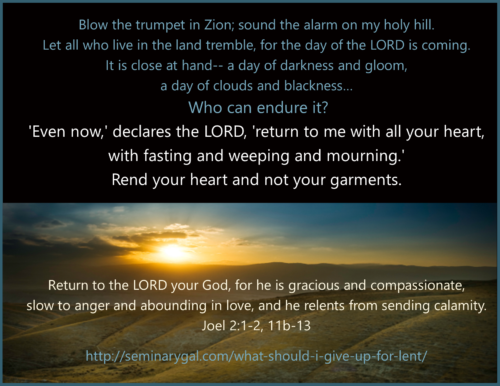 Joel 2:1 Blow the trumpet in Zion; sound the alarm on my holy hill. Let all who live in the land tremble, for the day of the LORD is coming. It is close at hand– 2 a day of darkness and gloom, a day of clouds and blackness. Like dawn spreading across the mountains a large and mighty army comes, such as never was of old nor ever will be in ages to come. 3 Before them fire devours, behind them a flame blazes. Before them the land is like the garden of Eden, behind them, a desert waste– nothing escapes them. 4 They have the appearance of horses; they gallop along like cavalry…. 10 Before them the earth shakes, the sky trembles, the sun and moon are darkened, and the stars no longer shine. 11 The LORD thunders at the head of his army; his forces are beyond number, and mighty are those who obey his command. The day of the LORD is great; it is dreadful. Who can endure it? 12 'Even now,' declares the LORD, 'return to me with all your heart, with fasting and weeping and mourning.' 13 Rend your heart and not your garments. Return to the LORD your God, for he is gracious and compassionate, slow to anger and abounding in love, and he relents from sending calamity. 14 Who knows? He may turn and have pity and leave behind a blessing– grain offerings and drink offerings for the LORD your God. 15 Blow the trumpet in Zion, declare a holy fast, call a sacred assembly. 16 Gather the people, consecrate the assembly; bring together the elders, gather the children, those nursing at the breast. Let the bridegroom leave his room and the bride her chamber. 17 Let the priests, who minister before the LORD, weep between the temple porch and the altar. Let them say, 'Spare your people, O LORD. Do not make your inheritance an object of scorn, a byword among the nations. Why should they say among the peoples, 'Where is their God?" 18 Then the LORD will be jealous for his land and take pity on his people.
In giving something up for Lent, let it be something significant. A rending of your heart or as The Message paraphrase says,
Change your life, not just your clothes.
Come back to God, your God.
And here's why: God is kind and merciful.
He takes a deep breath, puts up with a lot,
This most patient God, extravagant in love,
always ready to cancel catastrophe.
Who knows? Maybe he'll do it now,
maybe he'll turn around and show pity.
Maybe, when all's said and done,
there'll be blessings full and robust for your God!
It's not to buy His blessing, but an appeal for His grace upon the change of life and change of heart that Lent can mean for you. The Day of the Lord will be upon us someday. The wise man and woman return to God anticipating that Day, for His glory…and not just for our own.
What should you give up for Lent?
Start with your heart and your mind and all that is selfish within them.
You will be blessed and be a blessing to all for it.