I don't want to think this, but perhaps I'm the only woman in the world who really doesn't like Proverbs 31 because it has been the #2 most misused and #1 guilt-tripping passage about women in the Bible.
It's been used as defining some sort of religious superwoman before there were superwomen.  Until the feminist movement tried to convince us we could all be superwomen who bring home the bacon, fry it up in a pan, and never let our husband forget he's a man like the 1980s Enjoli ad says.  The "24 hour woman" who does it all and apparently needs no sleep.  Oh, and in her spare time after working her tail off, raises perfect children who play soccer and a dozen other sports, are prodigies of music and art, and after being National Merit Scholars become Nobel Peace Prize winners.  What a crock!
Of the Ten Undeniable Truths of Womanhood:
Undeniable Truth #5 is 'Superwomen don't exist except in the comics.'"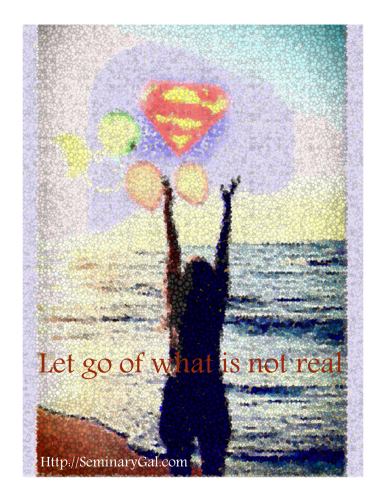 In a recent Chicago Tribune perspective, Tina Rodia writes, "Not a day goes by when I'm not reading another headline arguing that women can have it all, or more accurately, why they can't."  And the column explores "how the idea of 'having it all' makes women feel terrible about themselves."  Rodia explains how women cannot be so narrowly defined as professional mothers, career women.  Thank you, modern feminism, for narrowly defining womanhood as super- womanhood for the rest of us.
Feminism didn't invent superwomen, it just secularized the concept.  It took theologians pointing to Proverbs 31 to initiate that movement and define superwomen as super-duper in the home.  Never mind that this is an epilogue to the book of Proverbs, basically putting flesh on (personifying and applying) wisdom that is exalted in the prologue and throughout the rest of the book.
Compare Proverbs 3:13-18 with Proverbs 31.
Proverbs 3:13 Blessed is the man who finds wisdom, the man who gains understanding, 14 for she is more profitable than silver and yields better returns than gold. 15 She is more precious than rubies; nothing you desire can compare with her. 16 Long life is in her right hand; in her left hand are riches and honor. 17 Her ways are pleasant ways, and all her paths are peace. 18 She is a tree of life to those who embrace her; those who lay hold of her will be blessed.
Proverbs 31:1 10 A wife of noble character who can find? She is worth far more than rubies. 11 Her husband has full confidence in her and lacks nothing of value. 12 She brings him good, not harm, all the days of her life. 13 She selects wool and flax and works with eager hands. 14 She is like the merchant ships, bringing her food from afar. 15 She gets up while it is still dark; she provides food for her family and portions for her servant girls. 16 She considers a field and buys it; out of her earnings she plants a vineyard. 17 She sets about her work vigorously; her arms are strong for her tasks. 18 She sees that her trading is profitable, and her lamp does not go out at night. 19 In her hand she holds the distaff and grasps the spindle with her fingers. 20 She opens her arms to the poor and extends her hands to the needy. 21 When it snows, she has no fear for her household; for all of them are clothed in scarlet. 22 She makes coverings for her bed; she is clothed in fine linen and purple. 23 Her husband is respected at the city gate, where he takes his seat among the elders of the land. 24 She makes linen garments and sells them, and supplies the merchants with sashes. 25 She is clothed with strength and dignity; she can laugh at the days to come. 26 She speaks with wisdom, and faithful instruction is on her tongue. 27 She watches over the affairs of her household and does not eat the bread of idleness. 28 Her children arise and call her blessed; her husband also, and he praises her: 29 "Many women do noble things, but you surpass them all." 30 Charm is deceptive, and beauty is fleeting; but a woman who fears the LORD is to be praised. 31 Give her the reward she has earned, and let her works bring her praise at the city gate.
See what I mean? 
Unfortunately this has become the yardstick by which theological men measure women. 
If women don't like women's ministry or hanging out in the nursery doting on children, we're a problem, not a solution to other problems. 
Is a wife like what we see in Proverbs 31 a good thing?  Sure!
But it's not an excuse for men to expect their wives to be perfect superwomen unless those men are respected at the city gate as moral, upstanding, wealth-producing, and intellectual supermen who remember to praise such a wife publicly for her fear of the Lord and using what God gave her to use for the benefit of others.
Men cannot do it all.  Women cannot do it all. 
It's why we're better together and we're all better off dealing in reality where no man is superman, women are not superwomen, but gaining wisdom as fear of the Lord is good for all of us.
Research:  Read back over Proverbs 31 and identify traits of wisdom contained there, personified in the wife of noble character, traits which apply to men and women alike.
Job 28:12 "But where can wisdom be found? Where does understanding dwell? 13 Man does not comprehend its worth; it cannot be found in the land of the living. 14 The deep says, 'It is not in me'; the sea says, 'It is not with me.' 15 It cannot be bought with the finest gold, nor can its price be weighed in silver. 16 It cannot be bought with the gold of Ophir, with precious onyx or sapphires. 17 Neither gold nor crystal can compare with it, nor can it be had for jewels of gold. 18 Coral and jasper are not worthy of mention; the price of wisdom is beyond rubies. 19 The topaz of Cush cannot compare with it; it cannot be bought with pure gold. 20 "Where then does wisdom come from? Where does understanding dwell? 21 It is hidden from the eyes of every living thing, concealed even from the birds of the air. 22 Destruction and Death say, 'Only a rumor of it has reached our ears.' 23 God understands the way to it and he alone knows where it dwells, 24 for he views the ends of the earth and sees everything under the heavens. 25 When he established the force of the wind and measured out the waters, 26 when he made a decree for the rain and a path for the thunderstorm, 27 then he looked at wisdom and appraised it; he confirmed it and tested it. 28 And he said to man, 'The fear of the Lord– that is wisdom, and to shun evil is understanding.'"
Reflect:
How has modern feminism been "bought into" by both men and women, transforming a woman's having it all into a woman's attempt at doing it all?
How is this a recipe for sleep deprivation, loss of self-worth in womanhood, and depression?
How does doing it all differ from slavery?
If "fear of the Lord is wisdom," what is the number 1 thing a woman should do in order to be the wife or woman of noble character?
Respond:
Are you a man?  Encourage the women in your life that they don't have to do it all or be it all.  You love them because of who they are and not because of what they do.  Recognize the good things they do and praise them, whether that woman is your mother, your sister, your wife, or your daughter, etc.. They need your encouragement because culture dispirits women in many ways. Do your best not to find fault with their shortcomings as there's probably a log in your eye somewhere.  Work hard.  Show grace.  And above all, Love since Love covers over a multitude of other stuff, including sin.
Are you a woman?  Let go of what is not real.  The feminist movement appeals to the inner perfectionist present in many women.  Perfection is not possible this side of heaven or apart from Christ.  Superwomen and Wonderwomen don't exist except in the comics…ones written by men.  Embrace the freedom of reality.  You can strive for excellence in many areas, but you need not be it all to all people, or do it all, all the time.  You are not the Messiah.  You are not perfect.  But you can be wise by getting to know the One who is.  Get to know Jesus and His grace.  Do what God created you to do and trust Him with the rest.
Are you a pastor?  You can really help out the women in your flock by not expecting them to be perfect.  By encouraging them and praising them for what a benefit they are to your congregation, like Paul did at the end of Romans, whether in women's ministry, children's ministry or as teachers equipped by God for a broader base.  In your reaction to modern feminism, neither embrace the big lie of feminism nor deny the truth that God intends for women to serve Him too.  By way of reaction, restricting women (beyond the point God might) brings no glory to Him.  Dig deep into your feelings about working with women, imagine them as your biological sisters, and dig deep into the Scriptures and ask yourself if you can contend for the Gospel with women alongside you…just like Paul did.
=====
Ten Undeniable Truths of Womanhood:
A Christian woman is still a complete woman, even without marriage.
No man can teach a woman what is the truth of womanhood, even Christian womanhood.
The Bible clearly outlines what womanhood is…and it isn't always synonymous with motherhood.
Once a mother, always a mother.

Superwomen don't exist except in the comics.

All women make choices of no return.
Biology affirms what the Bible teaches.
The Christian woman must learn to artfully balance following Christ while honoring the men in her life.
Submission and sacrifice aren't bad words for women.
The Lord's maidservants bring glory to Christ by their obedience.