Of the Ten Undeniable Truths of Womanhood, #6 is top of mind for women in their child-bearing years:
All women make choices of no return."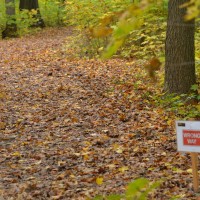 Women of child-bearing years face a fork in the road of womanhood where there is no going back.   
One can neither retreat back to the fork nor take both paths simultaneously and see where they end up before making a decision.  There is seldom a sign saying, "Wrong Way."
It is indeed a test of faith.
This is not to say the choices form regrets or that they will even be regrets in the future, only that these choice cannot be undone or redone another way from the starting line.
From the moment a woman becomes pregnant, her life is changed.  Forever.  That life change exhibits itself in a domino effect of changes that last a lifetime and beyond because once a mother, always a mother.
There are few things in my life that have so dramatically changed me…in ways apart from my own will…to be changed.  My being born and my decision to follow Christ are the only two comparable events I can think of.  Born and born again.  They're the only two that impact men in a similar fashion to how being pregnant changes a woman's life.
Suddenly, a woman faces decisions such as whether to pursue a career outside the home, knowing it means leaving her children in someone else's care, or to devote her time to work as mother inside the home, piecing together options to make everything work.  Women wrestle to find ways to do it all.
Why do women experience this but men do not? 
Part of it is cultural to be sure, but part of it, I believe, goes back to the way men and women were created.  We both received the blessings of God in the Garden of Eden, but outside of Eden, they pull women differently than men.  For Eve, being fruitful (fertile) and multiplying involved different outcomes than it did for Adam.  Only women bear children.  Yet the blessing of ruling, subduing, etc., still tug at a woman's desire to be a full image bearer.
Therefore, women face decisions that men do not because we are tied to our children in a totally different way.  Those decisions may sound simple enough–especially to men who father but do not bear children–but frankly, these decisions are agonizing ones for women.
All the temptations are there to avoid feeling vulnerable, knowing you're at the mercy of someone else to provide for you, to trust that love will be enough not to leave you in the cold.  Culture says others can't be trusted.  Look out for #1, especially when #1 is both mother and child.  To sacrifice self-reliance is tough.
Temptations are there to put yourself ahead of the others in your family for the sake of your own personal happiness.  Mothering can be a thankless job, and often is.  To sacrifice personal fulfillment is hard.
All the guilt arises from every corner–even if never stated–making many of us feel like we're not contributing somehow either financially or sufficiently in our child's childhood.  To sacrifice esteem and affirmation from others hurts.
One's mothering skills are under a microscope and "how the children turn out" seems to be more a function of mothering than fathering, though science says it's both.  To sacrifice with society's blame turned upon oneself as accountability for another human being is hard, especially when one is acutely aware of what one gave up to be a mother.
In addition to that, many of us remember what it's like not to be tied to a child.  We find ourselves secretly longing for our pre-pregnancy days when our lives were as simple as men's, and our bodies didn't look like Mom.  To sacrifice simplicity and appearance is brought to mind daily and all it takes is a mirror and a memory.
The concept of sacrifice calls out to us from behind every tree, under every rock, and from every corner of our lives…and if it isn't painful, is it truly a sacrifice?
Sacrifice, it is so often accompanied by pain!  But do we want the pain?  Sometimes necessity requires a woman to make choices she doesn't really want to make.  Sometimes her personality is at conflict with the choice she'd prefer.
One of the hardest things for me was the decision to stay at home with my kids while they were young.  I took one path and it led places I wouldn't have anticipated.   Each time a fork presented itself and I thought that finally, I would be back on my way to Careersville, some major event or crisis occurred and I was back to putting others first, if I could, because that's what I was taught that moms do.
Sacrifice is part of making choices of no return.  It won't look the same for every woman, but it will be sacrifice nonetheless.   It is this truth that prompted my short series of thinking aloud about the Ten Undeniable Truths of Womanhood.  I became aware that things are not that different for my daughter now than when I was her age and had children.
Research the idea of sacrifice:
2 Samuel 24:15-25, particularly verse 24 But the king [David] replied to Araunah, "No, I insist on paying you for it. I will not sacrifice to the LORD my God burnt offerings that cost me nothing."
1 John 4:10 This is love: not that we loved God, but that he loved us and sent his Son as an atoning sacrifice for our sins.
Romans 12:1 I urge you therefore, brethren, by the mercies of God, to present your bodies a living and holy sacrifice, acceptable to God, which is your spiritual service of worship. 2 And do not be conformed to this world, but be transformed by the renewing of your mind, that you may prove what the will of God is, that which is good and acceptable and perfect. 3 For through the grace given to me I say to every man among you not to think more highly of himself than he ought to think; but to think so as to have sound judgment, as God has allotted to each a measure of faith.
Philippians 2:1 If you have any encouragement from being united with Christ, if any comfort from his love, if any fellowship with the Spirit, if any tenderness and compassion, 2 then make my joy complete by being like-minded, having the same love, being one in spirit and purpose. 3 Do nothing out of selfish ambition or vain conceit, but in humility consider others better than yourselves. 4 Each of you should look not only to your own interests, but also to the interests of others.
Reflect:
How does sacrifice honor God?
How are love and sacrifice connected?
How might the connection between love and sacrifice encourage you when called to sacrifice your needs, desires, and dreams for someone else?
Will all sacrifice look alike or will each person's sacrifice look different?
Once an animal is sacrificed, in the Old Testament days, was that animal able to come back from the dead?  In what way did sacrifice teach important lessons about sin, responsibility, and love?
Respond:
Are you a man?  How might you respond to the notion of the sacrifices women make in your life?  How might you encourage the women who have sacrificed to make your path easier?  Find ways to thank your mother, your sisters, your neighbors, your friends, your wife, or your daughters for the sacrifices you see them making for the good of others.
Are you a woman?  Perhaps the greatest reassurance is that you're not alone.  Remind yourself that even if the decisions are permanent, they can be blessed as well.  Sometimes the decision's consequences last for a season and can be modified to accommodate different life stages.  The decision isn't retracted but it grows as the egg and the chrysalis seasons pass, and you emerge as a butterfly with all the winged freedom you remember.  Even if you have no children of your own, you can find ways of thanking the women in your life who encouraged you during the years of sacrifice we all make.
Are you a pastor?  Teach about sacrifice and its connection to love.  You'll encourage men and women to look outside of themselves and the world will be a better place for it.
=====
Ten Undeniable Truths of Womanhood:
A Christian woman is still a complete woman, even without marriage.
No man can teach a woman what is the truth of womanhood, even Christian womanhood.
The Bible clearly outlines what womanhood is…and it isn't always synonymous with motherhood.
Once a mother, always a mother.
Superwomen don't exist except in the comics.

All women make choices of no return.

Biology affirms what the Bible teaches.
The Christian woman must learn to artfully balance following Christ while honoring the men in her life.
Submission and sacrifice aren't bad words for women.
The Lord's maidservants bring glory to Christ by their obedience.