Oh, the depth of the riches of the wisdom and knowledge of God! How unsearchable his judgments, and his paths beyond tracing out!  "Who has known the mind of the Lord? Or who has been his counselor?"  "Who has ever given to God, that God should repay him?"  For from him and through him and to him are all things. To him be the glory forever! Amen. (Romans 11:33-36, NIV)
Now that Paul has outlined the power of the Gospel and pointed to the mystery of how God saves both Jews and Gentiles within the family of faith, Paul cannot contain himself any longer.  He bursts forth in praise.
No matter how smart Paul is, he is overwhelmed by the riches of the wisdom and knowledge of God!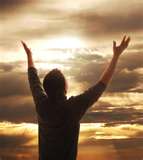 The Gospel:
No human could have predicted it.
No one is beyond being answerable to it.
No human payment could secure it.
No one's mind can fully comprehend it.
No book—including the Bible—has fully explained the mystery of it.
No one has conceived the full extent of it.
This is the primary reason I haven't engaged in the salvation debates so far.  The truth is that none of us knows how God judges or the intricate mystery of how God saves.  We can't figure out our own salvation let alone make determinations of how other people are saved or elected to salvation.  These things are too marvelous for us to know.
If we can't comprehend it, what should be our response? 
Praise.  Unbridled praise.
* * *
Give it up for Lent: Trying to be God's mind-reader
* * *
For further study:
Read again the words of today's passage which is often labeled a doxology (a hymn of praise) and meditate on how far beyond our understanding are God's workings.

Read Isaiah 40:6-31.  What about God merits our praise?

When is the last time you burst forth in unbridled praise of God?