Romans 13:8 Let no debt remain outstanding, except the continuing debt to love one another, for he who loves his fellowman has fulfilled the law. 9 The commandments, "Do not commit adultery," "Do not murder," "Do not steal," "Do not covet," and whatever other commandment there may be, are summed up in this one rule: "Love your neighbor as yourself." 10 Love does no harm to its neighbor. Therefore love is the fulfillment of the law.
Don't you find it curious how the Law from the Old Testament is all about love?

Love of God.

Love for neighbors who have been made in the Image of God.

And that Jesus perfectly fulfilled that Law by loving perfectly?
Think for a moment about debt. It's what happens when you owe someone something or they owe you something that must be repaid. The continuing debt is one that can never be repaid.
Now read the passage about love that occurs in the prior chapter of Romans and think of it in terms of the ongoing debt to love one another.
Romans 12:9 Love must be sincere. Hate what is evil; cling to what is good. 10 Be devoted to one another in brotherly love. Honor one another above yourselves. 11 Never be lacking in zeal, but keep your spiritual fervor, serving the Lord. 12 Be joyful in hope, patient in affliction, faithful in prayer. 13 Share with God's people who are in need. Practice hospitality. 14 Bless those who persecute you; bless and do not curse. 15 Rejoice with those who rejoice; mourn with those who mourn. 16 Live in harmony with one another. Do not be proud, but be willing to associate with people of low position. Do not be conceited. 17 Do not repay anyone evil for evil. Be careful to do what is right in the eyes of everybody. 18 If it is possible, as far as it depends on you, live at peace with everyone. 19 Do not take revenge, my friends, but leave room for God's wrath, for it is written: "It is mine to avenge; I will repay," says the Lord. 20 On the contrary: "If your enemy is hungry, feed him; if he is thirsty, give him something to drink. In doing this, you will heap burning coals on his head." 21 Do not be overcome by evil, but overcome evil with good.
Give it up for Lent: Love with limits
Questions for Romans 12:9-21 and 13:8-10
In what ways can our debt never be repaid? Why can it never be repaid?
What does it say about us when we expect or even hope to repay it?
Why is it good that we never be in the free and clear on repaying our debt of love? Consider the concepts of earning and grace.
We're focusing in this series on rekindling…and in today's case, rekindling our love. How does Romans 12:9-21 show us ways to rekindle our love? Identify ways listed there.
When I resigned from my preaching post in Wisconsin to do the sewer work in my hometown, God gave me

Romans 13: 10 "Love does no harm to its neighbor. Therefore love is the fulfillment of the law"

as my motivating framework. In dealing with civic affairs, how does Romans 13:10 ensure that the spirit of the law is fulfilled instead of just satisfying checkboxes for legal sidestepping?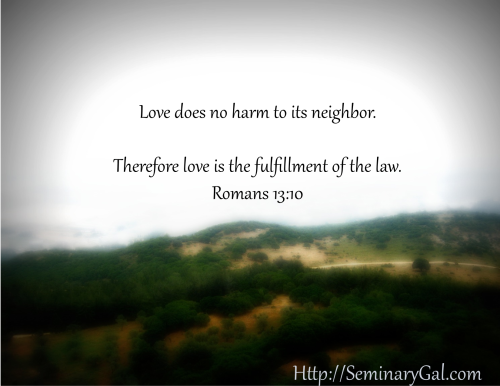 ReKindle is the 2016 Lenten devotional series from Seminary Gal.
To receive these devotionals to your email inbox throughout Lent, please fill in your email address in the space provided on my Home Page in the sidebar (right) and respond to the verification email.  If you already receive devotionals and articles, no need to do anything else.  You'll get them automatically.  Thank you!  Or log onto the SeminaryGal Facebook page and see them reprinted there.
Acknowledging that former years' devotional series remain popular, Be Still and Know that I AM God can be obtained through the archives beginning in March 2014 and With Christ in the Upper Room  is archived beginning February 18, 2015.