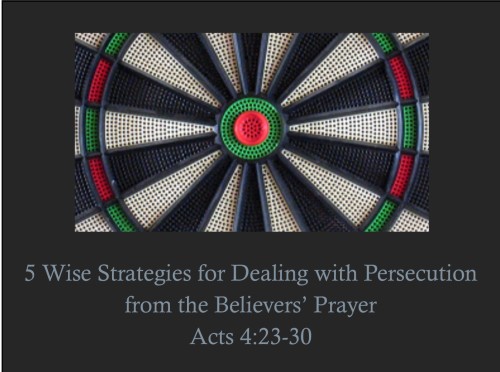 Have you ever been hated?  I have.  In fact, if I tell you the truth and that's my policy: 
I am regularly hated by quite a few people. 
It's not a particularly happy experience, that's for sure.  But, if you're hated by the right people for the right reasons, it can actually be a good thing.  It's kind of a back-handed compliment.
Jesus never won any popularity contests when He walked the earth. 
And He told us that if we genuinely follow Him, you know what?  We'll probably face the same thing.
Such is the case of Peter and John in the flow of the Book of Acts.  They've been following Jesus' Great Commission and His command to take the Gospel to the entire known world.  So they start off in the local temple and on the way in, they heal a 40 year old guy who had been crippled since birth—a guy they found begging at the temple gate called Beautiful.
Suddenly they find themselves in prison.  They're pretty unpopular guys with a crowd of religious hoity-toity sorts who try to figure out how best to punish these two evangelists.  Thus we have the beginning of Christian persecution that would continue what Jesus had told them while He was still walking the earth:
John 15: 17 This is my command: Love each other. 18 "If the world hates you, keep in mind that it hated me first. 19 If you belonged to the world, it would love you as its own. As it is, you do not belong to the world, but I have chosen you out of the world. That is why the world hates you. 20 Remember the words I spoke to you: 'No servant is greater than his master.' If they persecuted me, they will persecute you also. If they obeyed my teaching, they will obey yours also. 21 They will treat you this way because of my name, for they do not know the One who sent me. 22 If I had not come and spoken to them, they would not be guilty of sin. Now, however, they have no excuse for their sin.
So, just as Jesus was hated, so now Peter and John also are hated.  Even the crippled guy was probably hated because if he'd just minded well enough alone, and he was still begging and still crippled, none of this uproar would be happening.  So threats and intimidation are necessary to shut up the former cripple and the disciples of Jesus.
Today, I'd like to look at the Believers' Prayer found in Acts 4:23-30 and learn some wise strategies for coping with persecution, accusation, unpopularity, and being hated because of your relationship with Jesus.
Sometimes the actions against you are designed by our adversary Satan to dispirit you, like when I was scheduled to speak at a major event to hundreds of people.  The discouragement and hurtful comments can even take the form of someone who means well.  Just before speaking, one woman walked up to me and said,
I must say, you're not nearly as unattractive in person as you are in that photo."
I said "Thank you!" and then pondered how that really wasn't a compliment as I went up to the microphone to begin a Bible teaching program.
Then sometimes you're doing the Lord's work as best as you know how and then the punishment comes after the fact.  I've lived a strange life.  For a season, I was actively involved in the charter school movement in IL, trying to give parents options for a quality education for their children that had all the academics and as little of the agenda as possible.  Consequently I was a guest a few times on the Milt Rosenberg radio program broadcast out of the WGN studios in Chicago throughout the nation.  Afterward, I received a piece of hate mail.  My first piece in which the man writing it was a linguistics professor who told me that I have an "annoying vocal lilt, common in children though most outgrow it by adulthood."  I obviously didn't in this guy's view and then he went on to say that I "probably picked it up from some snappy cartoon character."  Sometimes, if taken the right way, even hate mail can be hilarious.
But the point is that opposition will come in many ways—not just with knives and guns and wars–but sometimes in the form of hurtful words and accusations, even by other self-professed Christians who are losing their witness by loving the world more than loving Jesus.  You know what?  If we don't find strategies for dealing with it, we too can become sidelined or stalled in our Christian walk, or worse get wrapped up in the culture to where we lose our witness entirely.
It's actually fitting to look at this during Advent because Mary would be shunned by all good society and she risked even being stoned for adultery because, after all, who would believe her story?  "Well, you see, there was this angel…"
Mary—as we heard in our Advent reading this morning– adopts some of these very same strategies that we see in Acts.  We can too.  Let's take a look at these strategies.  Beginning in
Acts 4:23 On their release, Peter and John went back to their own people
Strategy #1:  Stick together.  Seek fellowship and encouragement by finding those who will understand. 
It was kind of like a support group.  Peter and John went back to their own people (i.e. other disciples).  Mary fled to see Elizabeth not only to double check that it was true since Elizabeth was identified by the angel as someone who would understand and be external evidence.  If Elizabeth was 6 months pregnant when she was way too old to be a mother, Mary would know that at least that part wasn't a dream.  It would give her strength and confidence.
So Peter and John leave the temple area and seek the fellowship of other believers.
4:23 (continued) and reported all that the chief priests and elders had said to them.
In other words, they told the group of believers the persecution they were beginning to face.  When Mary ran to Elizabeth, Mary didn't have to get beyond the "Hi Elizabeth" before the encouragement started!
Why do we need to stick together when persecution is happening?  We support one another and can feed off of each other's encouragement.  We need each other.  There's safety in numbers.  Isolation and "divide and conquer" are Satan's favorite tools for destroying the Church.  But we can avoid these if we stick together in love and truth.
Continuing in Acts 4,
24 When they heard this, they raised their voices together in prayer to God.
Strategy #2: Praising God always helps.
Elizabeth blesses Mary and in the process, Elizabeth praises God.  Mary then launches into a full-blown song.
It's not quite like that scene from the King and I when Anna sings, "Whenever I feel afraid, I hold my head erect.  And whistle a happy tune, so no one will suspect, I'm afraid."  It's not just the song.  It's who we're singing to.  Who we're praying to.  Whose praise we're engaging in.  The most powerful thing we can do as Christians is to praise God and let Him work on our behalf!
In a few weeks, we'll get to Acts 5:40 … [The Sanhedrin] called the apostles in and had them flogged. Then they ordered them not to speak in the name of Jesus, and let them go. 41 The apostles left the Sanhedrin, rejoicing because they had been counted worthy of suffering disgrace for the Name. 42 Day after day, in the temple courts and from house to house, they never stopped teaching and proclaiming the good news that Jesus is the Christ.
Remember how I said that if you're hated by the right people, for the right reasons, it can be a good thing?  It's not like we're trying to be as offensive as we can possibly be.  That is unchristian!  But the Gospel is offensive even when spoken in truth and love.  It's not like we're purposely trying to be a thorn in the side of society, but if we're preaching the Gospel and sharing the Good News, opposition will happen.  When Christians shine Jesus' light into the world it reveals both the flowers on the table and the spiders on the wall.  And the spiders don't like the light.  Some will run, but others will bite.  So praise God.  We suffer disgrace for the Name.  In our passage today, the disciples break into a spontaneous prayer as the response to persecution.
 "Sovereign Lord," they said, "you made the heaven and the earth and the sea, and everything in them.
Strategy #3: Remind yourself of God's sovereignty!
The believers recount many instances of God's sovereignty.  They even begin by addressing this prayer:
"Sovereign Lord," they said, "you made the heaven and the earth and the sea, and everything in them." [He is the Creator—doesn't get more sovereign than that.]
25 You spoke by the Holy Spirit through the mouth of your servant, our father David:   [He is the Living Word who spoke prophetically then and who speaks to us today!  This same sovereign God intervened with the prophets and the apostles and He speaks through us to a culture that would rather be its own god.  Reminding the world that God alone is sovereign is likely to ruffle some feathers.]
 "'Why do the nations rage and the peoples plot in vain? 26 The kings of the earth take their stand and the rulers gather together against the Lord and against his Anointed One.' . [He is sovereign over all the nations and while God's enemies may take a stand and gather to fight God, but ultimately that's a losing battle because He is sovereign and they are not.  They are like a mist, a flower of the field that is here today and gone tomorrow.  We may not know our future, but we can know who holds it: our sovereign Lord.]
27 Indeed Herod and Pontius Pilate met together with the Gentiles and the people of Israel in this city to conspire against your holy servant Jesus, whom you anointed. 28 They did what your power and will had decided beforehand should happen. [He is architect of His own will and no one surprises God on any of this.  Even suffering fits in God's plan, oddly enough.]
All of this points to the fact that God knows what's going on and He's got it all under control even if we don't understand how.
That's what Mary praised God for!  God sovereignly remembered to be faithful to all of His promises and in the process lifted the humble and taught those self-righteous savior/king-wannabes a lesson.
Strategy #4: Press On!  Don't let the discouragement prevent your following Jesus!
29 Now, Lord, consider their threats and enable your servants to speak your word with great boldness. 30 Stretch out your hand to heal and perform miraculous signs and wonders through the name of your holy servant Jesus."
These disciples asked for God—not to take away the threats—but to show Himself present in greater boldness.  Evidence that would be undeniable to others.
31 After they prayed, the place where they were meeting was shaken. And they were all filled with the Holy Spirit and spoke the word of God boldly.
This doesn't mean that they became indwelled with the Holy Spirit since they were already believers.  This filling was like filling their spiritual gas tank.  They needed empowering to press on!
The final strategy becomes apparent only as we look at the entire prayer.  These disciples knew their Bibles.
Strategy #5: Immerse yourself in God's Word.  There's power there. 
This whole section is filled with Scripture quotations.  In fact, the whole Book of Acts is one OT reading after another.  There is a reason why I always want to have an OT reading as part of our Sunday worship.  We can find strength there.  Just like in today's reading, the Lord is David's strength and David strengthened himself up in the Lord.
You see, sometimes, we have no accountability group, no support, no friends to stand by our side, we're deserted…a lot like Jesus was abandoned.  Standing alone is unpleasant stuff.   It happens more often for those who are in leadership roles or who are called to be a voice in the wilderness like John the Baptist.  But whether we're leaders or just in places where safety in numbers isn't available, it helps to know that God's Word is planted in our hearts and it is the best weapon we have against discouragement, depression, loneliness, uncertainty, fear, and feelings of confusion.  There's power there because Hebrews 4:12 For the word of God is living and active. Sharper than any double-edged sword, it penetrates even to dividing soul and spirit, joints and marrow; it judges the thoughts and attitudes of the heart.
2 Timothy 3:16 All Scripture is God-breathed and is useful for teaching, rebuking, correcting and training in righteousness, 17 so that the man of God may be thoroughly equipped for every good work.
It can also help us to stand firm in the day of battle, even battling confidently by standing still.  Ephesians 6: 10 Finally, be strong in the Lord and in his mighty power. 11 Put on the full armor of God so that you can take your stand against the devil's schemes. 12 For our struggle is not against flesh and blood, but against the rulers, against the authorities, against the powers of this dark world and against the spiritual forces of evil in the heavenly realms. 13 Therefore put on the full armor of God, so that when the day of evil comes, you may be able to stand your ground, and after you have done everything, to stand. 14 Stand firm then, with the belt of truth buckled around your waist, with the breastplate of righteousness in place, 15 and with your feet fitted with the readiness that comes from the gospel of peace. 16 In addition to all this, take up the shield of faith, with which you can extinguish all the flaming arrows of the evil one. 17 Take the helmet of salvation and the sword of the Spirit, which is the word of God. 18 And pray in the Spirit on all occasions with all kinds of prayers and requests. With this in mind, be alert and always keep on praying for all the saints.
In this simple prayer of Acts 4:23-30, we see 5 great strategies for standing firm and living life with boldness.
Stick Together
Praise God
Remember His Sovereignty and that He knows the end of the story
Press On!
Know Your Bible
If we do these things, we'll be fully equipped to deal with standing firm and standing alone.  We can cope with being hated, isolated, accused, insulted…because Jesus said this would happen when we truly follow Him.
Let's pray.