Today's carol, Infant Holy Infant Lowly,  is the first one we've explored as of Polish origin through the course of our Carol Me, Christmas (2014 Advent Devotional Series).
It's a good time to pause and remember that Christmas is a worldwide celebration.  From Jesus' humble human beginning in the womb of virgin and His laying in a manger in Bethlehem, how did this Child's birth become a worldwide event that we remember annually?
It's due to what He did during His thirty-three years of walking this earth. 
We're still talking about Him two thousand years later.
I, for one, really love that Christmas is celebrated around the globe by people of different nationalities, in different languages, and with hymns of different cultural flavor.  It's a taste of heaven where there will be a great diversity!
Revelation 7:9 After this I looked and there before me was a great multitude that no one could count, from every nation, tribe, people and language, standing before the throne and in front of the Lamb. They were wearing white robes and were holding palm branches in their hands.
Not much is known about Infant Holy Infant Lowly which was originally written as W żłobie leży.  The words were recorded in 1908 and translated into English by Edith Margaret Gellibrand Reed in 1921.
If "brevity is the soul of wit" (Shakespeare), consider how much of the Bible story is conveyed in Infant Holy Infant Lowly through only two short verses.   Enjoy this version by the King's College Cambridge in their Lessons and Carols and ponder our Thought Focus for Today.
Thought Focus for Today: Have you ever thought about increase?  From an egg in a virgin's womb in the first century to an international phenomenon still going two thousand years later, the increase goes from personal to local to international to the cosmos.  Someday, when Jesus returns, all the heavens will be resounding with the voices of angelic worship not unlike what happened at Jesus' birth as the increase of His government reaches fulfillment in His eternal Kingdom.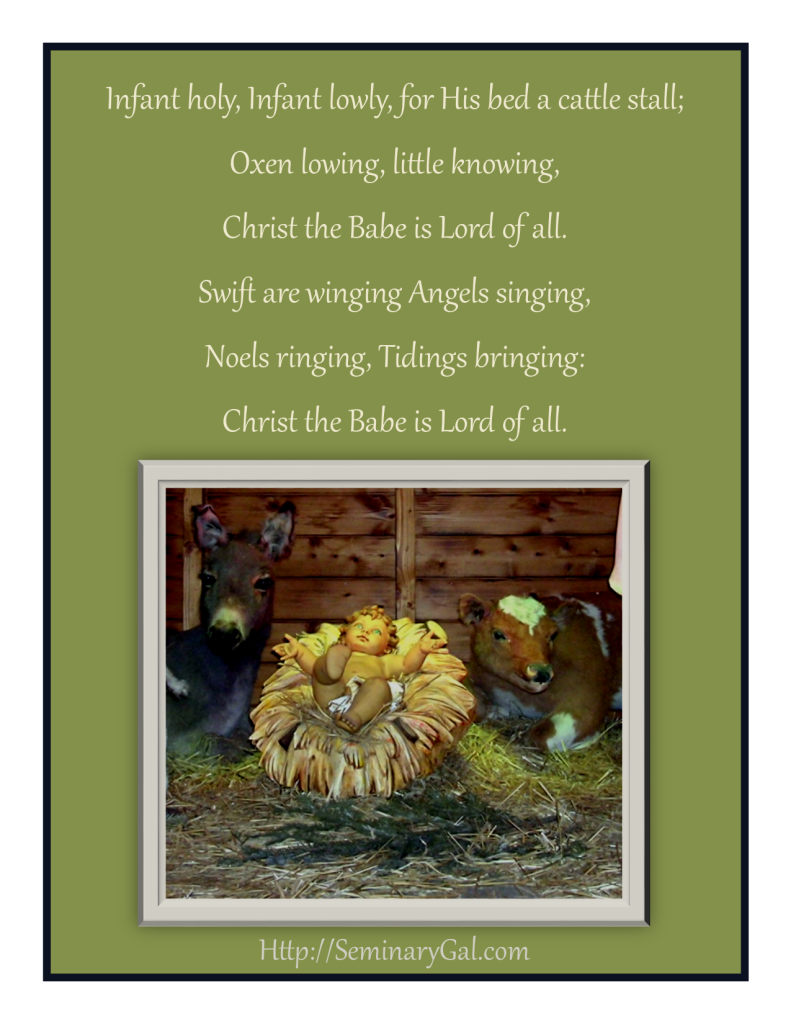 1. Infant holy, Infant lowly, for His bed a cattle stall;
Oxen lowing, little knowing, Christ the Babe is Lord of all.
Swift are winging Angels singing, Noels ringing, Tidings bringing:
Christ the Babe is Lord of all.
2. Flocks were sleeping, Shepherds keeping vigil till the morning new
Saw the glory, heard the story, tidings of a gospel true.
Thus rejoicing, free from sorrow, praises voicing, greet the morrow:
Christ the Babe was born for you.
=====
Carol Me, Christmas (2014 Advent Devotional Series) began November 30th.  By way of reminder, if you haven't signed up yet, you can receive these devotional studies in your email throughout Advent 2014 by entering your email address on the SeminaryGal.com home page in the space provided in the sidebar.  Or "Like" the SeminaryGal Facebook page to access them there.  If you like these devotionals, I'd really appreciate your letting others know so I can continue to spread the Good News far and wide.  Blessings to you, in Christ always, Barbara <><