Strange, isn't it, to think that God would plan on sending Jesus to die for human sin even before a single human being had been created? Yet, that's what the Bible teaches. It should change our attitude from gloom of sin's darkness to an attitude of Timeless Hope for eternal life. And it explains why this is such good news as the angels proclaimed to the shepherds at the Savior's birth.
Luke 2:9 An angel of the Lord appeared to [the shepherds], and the glory of the Lord shone around them, and they were terrified. 10 But the angel said to them, "Do not be afraid. I bring you good news of great joy that will be for all the people. 11 Today in the town of David a Savior has been born to you; he is Christ the Lord. 12 This will be a sign to you: You will find a baby wrapped in cloths and lying in a manger." 13 Suddenly a great company of the heavenly host appeared with the angel, praising God and saying, 14 "Glory to God in the highest, and on earth peace to men on whom his favor rests."
You see, God knew we'd need Him before we'd ever been born and He'd make a way for us to enjoy His presence even after we'd bring our sin into His world. Revelation 13:8 teaches that the Lamb, Jesus Messiah, "was slain from the creation of the world." 1 Peter 1:20 teaches that "He was chosen before the creation of the world, but was revealed in these last times for your sake." For your sake. That you'd have an attitude of Timeless Hope because God knew we needed Him before we ever realized it ourselves. And He'd meet that enormous need with a baby in a humble manger. No ordinary infant, however. He sent His Son.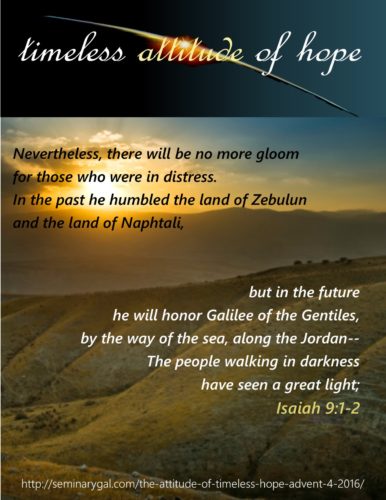 Here is the grace of God: This Timeless Hope exists even if people never realize it and refuse to avail themselves of this Hope freely offered.
Isaiah 9:1 Nevertheless, there will be no more gloom for those who were in distress. In the past he humbled the land of Zebulun and the land of Naphtali, but in the future he will honor Galilee of the Gentiles, by the way of the sea, along the Jordan—2 The people walking in darkness have seen a great light; on those living in the land of the shadow of death a light has dawned.
After the dark … we'll have the dawn. After humiliation and distress … honor. If only we'll see the Light.
Reflect today on Philippians 2:5-11 and ponder how darkness is overcome by the dawn and how humiliation comes before honor as our Timeless Hope. If Jesus modeled this attitude of hope for us even at His birth, in what ways will you overcome darkness by seeing the Light of Christ revealed? Ponder how you can endure humbling now knowing that honor follows in eternity for those who've seen the Light.
Philippians 2:5 Your attitude should be the same as that of Christ Jesus: 6 Who, being in very nature God, did not consider equality with God something to be grasped, 7 but made himself nothing, taking the very nature of a servant, being made in human likeness. 8 And being found in appearance as a man, he humbled himself and became obedient to death– even death on a cross! 9 Therefore God exalted him to the highest place and gave him the name that is above every name, 10 that at the name of Jesus every knee should bow, in heaven and on earth and under the earth, 11 and every tongue confess that Jesus Christ is Lord, to the glory of God the Father.
===
Join me for Advent 2016 Devotionals called Timeless: the Message of Christmas for All Ages beginning November 27, 2106. Timeless hope, encouragement, grace, peace, and love will be ours as we look into the Word, see the face of our Lord Jesus, and experience restoration in His presence. His goodness and His Gospel are truly Timeless.
Advent began November 27, 2016. If you're already signed up on my Home Page sidebar to receive posts, you'll get the Advent devotionals automatically. If you haven't signed up, today is a great day to do so. Advent and Lenten devotionals remain among my most popular offerings. You don't want to miss this great way to prepare your heart for the true meaning of Christmas!