Perhaps 15 years separated David's being privately anointed as king by the prophet Samuel and the time he was publicly anointed and actually proclaimed king following Saul's death.  King David demonstrated great patience while waiting upon God's promises.  He even spared Saul's life on several occasions.
How many of us knowing that destiny awaits could feel as though we were entitled to what God has promised?
There's a heart attitude here in David's life of humility and confidence in God.  The same confidence he showed facing Goliath when he taught the Israelites and the Philistines that placing one's trust in human devices and efforts will be proved insufficient.  Only trust in God will do.  He said to the Philistine,
All those gathered here will know that it is not by sword or spear that the LORD saves; for the battle is the LORD's, and he will give all of you into our hands." (1 Samuel 17:47)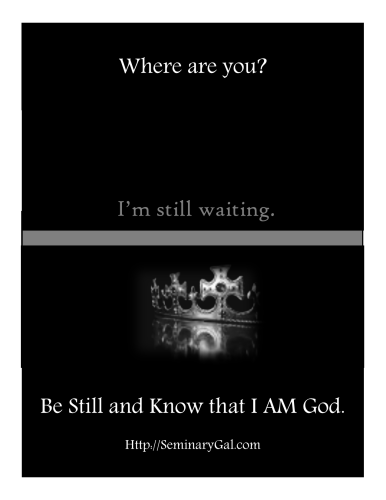 I look at David—a complicated man of deep flaws, profound faith, beautiful artistry, and genuine passion—and find one of the most remarkable things about him during this time of his life remains his patience. 
The Philistine is dead and time goes on.
Saul remains king.
Time goes on and Saul is jealous of David and tries to have him killed. 
Retribution isn't even in the equation.
For David, it was about waiting on the LORD.  Being still even while being a fugitive whose life is on the line.
When David hears that Saul is dead, does he rush into what's rightfully his?  Does he grab the crown and the band from the Amalekite who brought them to him? ( 2 Samuel 1:5-12).  No.  David inquired of the LORD first.
2 Samuel 2:1 In the course of time, David inquired of the LORD. "Shall I go up to one of the towns of Judah?" he asked. The LORD said, "Go up." David asked, "Where shall I go?" "To Hebron," the LORD answered. 2 So David went up there with his two wives, Ahinoam of Jezreel and Abigail, the widow of Nabal of Carmel. 3 David also took the men who were with him, each with his family, and they settled in Hebron and its towns. 4 Then the men of Judah came to Hebron and there they anointed David king over the house of Judah.
David was 30 years old when he became king and he reigned forty years in all.  Half of his life had been spent waiting for his moment to ascend to the throne.  Could you wait 15 years after hearing what God is going to do before seeing it come to fulfillment?  Or would you get a bit impatient?  Would you seek instant gratification as soon as you see the finish line?
David didn't.  He inquired of the LORD and God blessed David as he reigned over Judah for seven and a half years (2 Sam 5:5).  Eventually he would reign over both Judah and Israel.  He would move the capital city to Jerusalem and he would reign over all Israel and Judah for a total of 33 years.  David was a man after God's own heart (Acts 13:22).  And that didn't happen overnight.  It happened by Being Still for the long haul.  Still Waiting and constantly seeking the LORD's presence.
Be Still.  Seeking Me will keep your heart pure.
Be Still.  Waiting upon Me is never wasted time.
Be Still and Know that I AM God.  In the fullness of time, I bring each thing to pass in accordance with My will.
Be Still and Know that I AM God.  Remember what I told you: Matthew 6:33 "But seek first His kingdom and His righteousness; and all these things shall be added to you."
Questions for reflection:
How good are you at waiting on God?
How might worship be an antidote for impatience?
What does impatience say about who is on the throne of your life?