It's shaping up to be another bad year for the black community in Chicago: 51 murders, 234 shooting incidents, and 299 shooting victims in January alone. To resolve it, we're going to need a few Resurgent men who see Resurgent solutions don't follow the path of all the failed solutions that got us here. We got here by looking to failed solution peddlers, trusting that the loudest protestor is the wisest physician for healing a community, and by throwing our time and resources in the fire of protest instead of fueling productive solutions outside of a politicized church.
Resurgent men aren't like Chicago Police Superintendent Eddie Johnson who is calling for a culture of accountability among gun offenders. He's still looking at what got us here:
"I've talked to my colleagues across the country," Johnson told reporters this morning. "They're seeing the same things that we're seeing, too many guns on the street…The way we get the numbers down is to hold repeat gun offenders for the crimes that they commit"… Johnson repeated his request to President Trump: If the President wants to help, he can send federal money for jobs programs, for mental health, and also send more federal agents."
Same old answer. Resurgent solutions require the personal touch of God's church and community stepping up to offer an alternative vision of black manhood than just guns, gangs, and incarceration.
"The Vice Lords are ready to be a mentor. Is Chicago ready to a mentor? The Gangster Disciples [are] ready to be a role model. Is Chicago ready to be a role model? The [Four]-Corner Hustlers are ready to be a family. Is the city of Chicago ready to be a family?…You give the kids of Chicago a positive alternative with a caring adult, they'll go the positive route." –Chicago Mayor Rahm Emanuel
Close, Mayor. What's missing are dads. Manhood needs to be guided as AJ Watson suggests:
Part of the allure of gangs is brotherhood—even if it's one filled with violence and dead-end prospects. According to the U.S. Department of Justice, most members join gangs between the ages of 12 and 15. It's a delicate time, and in at-risk environments where positive adult male role models are scarce, due in part to high rates of incarceration and death, many boys are left searching for guidance on their journey into manhood. It helps to have strong male mentors meet those outstretched arms before the streets do.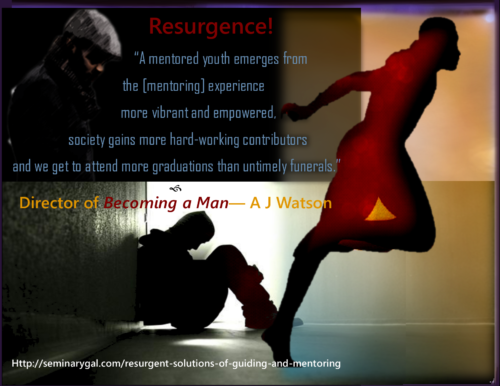 AJ Watson's answer is mentoring:
"A mentored youth emerges from the [mentoring] experience more vibrant and empowered, society gains more hard-working contributors and we get to attend more graduations than untimely funerals."
"Mentorship is a critical part of a young person's transition into adulthood. Every kid needs a guide. Putting a caring adult squarely in the lives of each of these young men at such an important stage is a strong message that these young kids matter and these communities matter."
Yes, money doesn't buy mentors. Love buys mentors. God's Resurgent solutions are simple: a guide is better than a map, and a church home is better than the streets.
Resurgent man Pastor Marlon Lock understands this and is doing his part not too far north in Milwaukee, WI.
"Unity Gospel House of Prayer has launched a new "No Empty Seats" campaign… Pastor Lock and other faith leaders in Milwaukee have answered the call to serve as an outlet and source of spiritual guidance for residents. "The reality is our job is to reach the lost and unsaved. If we can have more people in the church, we have less crimes we have to deal with in our city," Pastor Lock said."
Healing of communities divided by race, violence, crime, and fatherlessness means seeing why young men are alone and without hope. Until the next generation reclaims black manhood and fatherhood, they will need spiritual guidance from Resurgent men of God who will be a father and a mentor to reclaim the family from the ground up, spiritually.
Ephesians 6:1 Children, obey your parents in the Lord, for this is right. 2 "Honor your father and mother"– which is the first commandment with a promise– 3 "that it may go well with you and that you may enjoy long life on the earth." 4 Fathers, do not exasperate your children; instead, bring them up in the training and instruction of the Lord.
These are God's Resurgent solutions and they start with God's love, close to home.
===
The full Resurgence Series was devoted to highlighting the extraordinary efforts of black men to elevate the black community and included:
http://seminarygal.com/steve-harvey-and-black-manhoods-resurgence/

http://seminarygal.com/steve-harvey-resurgence-and-faith/

http://seminarygal.com/supreme-court-justice-clarence-thomas-and-resurgence/

http://seminarygal.com/benjamin-carson-on-success-and-resurgence/

http://seminarygal.com/jim-brown-and-black-resurgence/

http://seminarygal.com/shelby-steele-resurgence-and-political-correctness/

http://seminarygal.com/walter-williams-and-the-resurgent-solution/

http://seminarygal.com/resurgent-man-jason-riley-analyzes-the-problem/

http://seminarygal.com/resurgent-man-benjamin-watson-values-life/

http://seminarygal.com/politicized-church-a-two-word-problem/

http://seminarygal.com/resurgent-solutions-of-guiding-and-mentoring/