One of the casualties of refusing to call a spade "a spade" … or a sin "a sin"…
is that it makes repentance completely unnecessary.
* * *
If all truth is relative and no sin is immoral, then no one needs to repent because what they did was right… in their own eyes.
Repentance rekindled would be worse than a waste of time to such people.
The Bible has a few choice words for that kind of dangerous thinking:
Ephesians 4:18 They are darkened in their understanding and separated from the life of God because of the ignorance that is in them due to the hardening of their hearts. 19 Having lost all sensitivity, they have given themselves over to sensuality so as to indulge in every kind of impurity, with a continual lust for more.
And the outcome isn't a pretty one: Romans 1:18 The wrath of God is being revealed from heaven against all the godlessness and wickedness of men who suppress the truth by their wickedness, 19 since what may be known about God is plain to them, because God has made it plain to them. 20 For since the creation of the world God's invisible qualities– his eternal power and divine nature– have been clearly seen, being understood from what has been made, so that men are without excuse. 21 For although they knew God, they neither glorified him as God nor gave thanks to him, but their thinking became futile and their foolish hearts were darkened. 22 Although they claimed to be wise, they became fools 23 and exchanged the glory of the immortal God for images made to look like mortal man and birds and animals and reptiles.
The remedy, however, is remarkably simple: Repentance, a change of mind.
We need repentance rekindled.
 The time has come," Jesus said. "The kingdom of God is near. Repent and believe the good news!" (Mark 1:15)
Give it up for Lent: Fool's "wisdom"
Questions on Ephesians 4:18-19, Romans 1:18-23, and Mark 1:15:
How do a darkened understanding and a life apart from God lead to an ongoing hardening of the heart—a downward spiral?
What comes first, the darkened understanding and rebellion or the hardness of their hearts?
Once a person enters that downward spiral, what is the only way out?
What are some ways the world claims to be wise and labels Christians as ignorant?
How does someone get repentance rekindled? (Mark 1:15)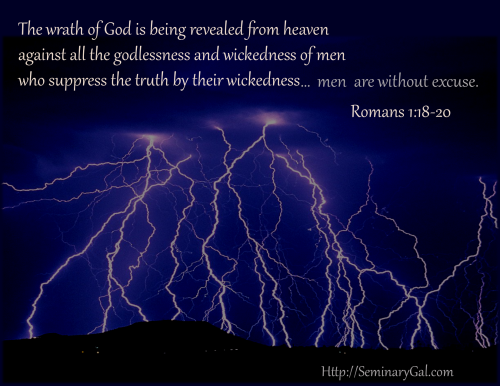 ReKindle is the 2016 Lenten devotional series from Seminary Gal.
To receive these devotionals to your email inbox throughout Lent, please fill in your email address in the space provided on my Home Page in the sidebar (right) and respond to the verification email.  If you already receive devotionals and articles, no need to do anything else.  You'll get them automatically.  Thank you!  Or log onto the SeminaryGal Facebook page and see them reprinted there.
Acknowledging that former years' devotional series remain popular, Be Still and Know that I AM God can be obtained through the archives beginning in March 2014 and With Christ in the Upper Room  is archived beginning February 18, 2015.