Joseph was wandering around the fields of Shechem when a chance encounter gave him some direction to locate his brothers. "'They have moved on from here,' the man answered. 'I heard them say, "Let's go to Dothan. "' So, Joseph went after his brothers and found them near Dothan." (Genesis 37:17)
Joseph–that dreamer who gave a bad report on his brothers in the past. Oh, how they hated him for it!! But he went on to find his brothers anyway, and report back…again…at least that was his plan.
"But they saw him in the distance, and before he reached them, they plotted to kill him. "Here comes that dreamer!" they said to each other. "Come now, let's kill him and throw him into one of these cisterns and say that a ferocious animal devoured him. Then we'll see what comes of his dreams." (Genesis 37:18-20)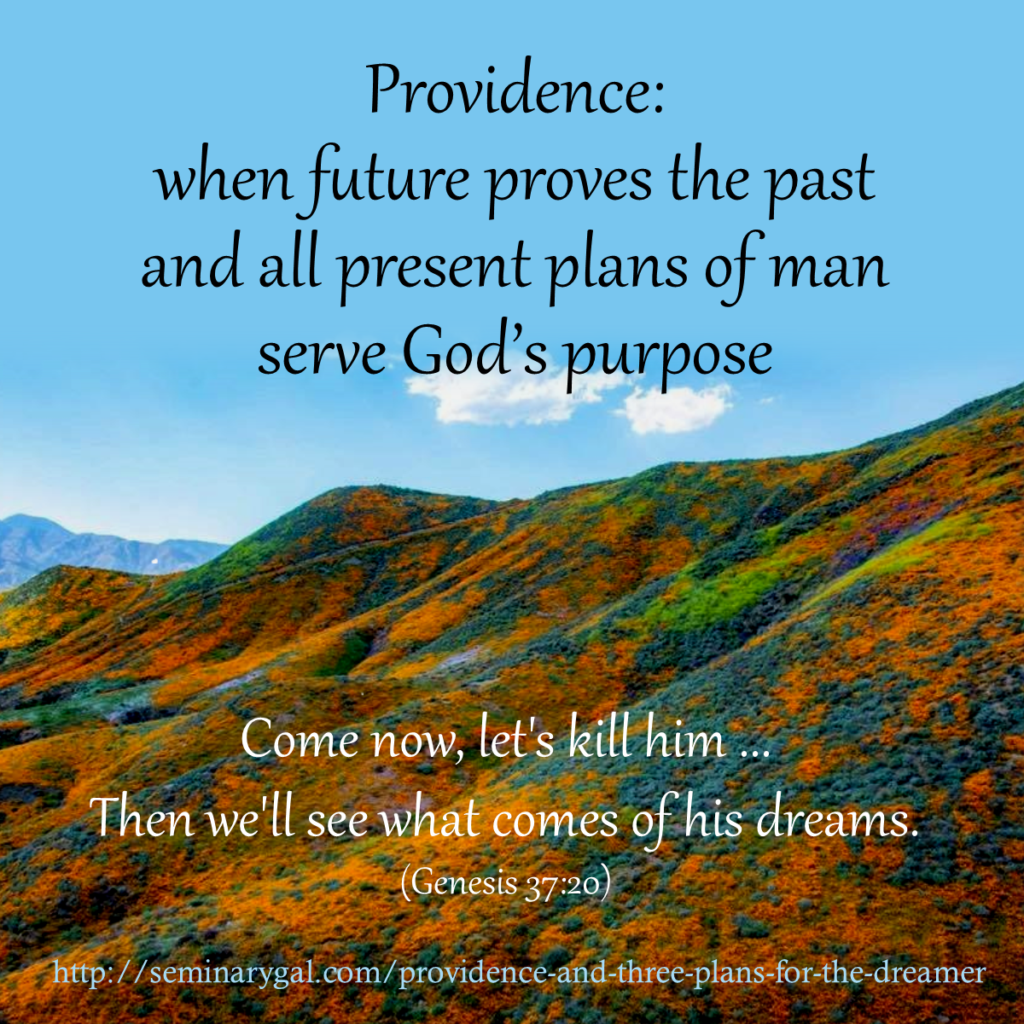 The brothers deserved more than a bad report. They deserved more than a severe reprimand and a lifetime of anger management counseling because they had decided to take matters in their own hands. They planned to kill him and put an end to all that dreaming.
"God's Providence:
when future proves the past
and all present plans of man serve God's purpose."
Oddly, God's providence used their hatred of their own brother to accomplish His good and perfect will. They just didn't know it.
Think about it:
If Joseph was dead, would his dreams come true?
In what ways were the brothers trying to be architects of their own destiny and thwarting whatever God might be doing with Joseph's dreams? Is God's sovereignty that flimsy?
What do their actions say about their beliefs regarding the origins of Joseph's dreams?
Joseph had a plan. The brothers had a plan. And God had a plan. Which plan prevailed and how did the other two plans serve to accomplish the best of three?