When we last considered Joseph: A Life with Many Colors in the days leading up to Lent 2019, Joseph (our lead character from this part of the Book of Genesis) was a young emissary sent on a mission to Shechem which was a good four or five-day journey from his father Jacob's home in the Valley of Hebron. Jacob sent him to report on his brothers (big mistake) and Joseph, no doubt, had a lot to think about as he traveled in the now famous coat.
Genesis 37: 14 When Joseph arrived at Shechem, 15 a man found him wandering around in the fields and asked him, "What are you looking for?" 16 He replied, "I'm looking for my brothers. Can you tell me where they are grazing their flocks?" 17 "They have moved on from here," the man answered. "I heard them say, 'Let's go to Dothan.'" So Joseph went after his brothers and found them near Dothan.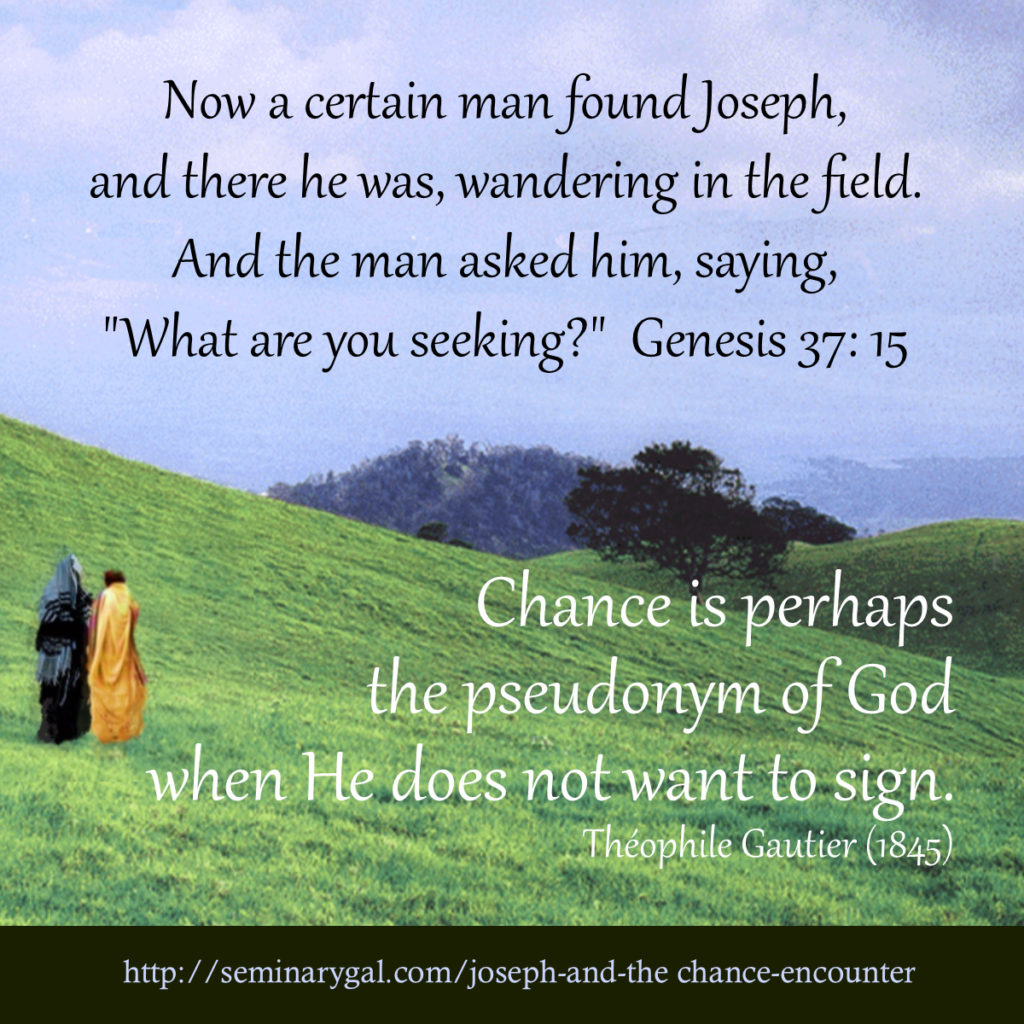 Don't you find this story rather mysterious? Here's Joseph desperately seeking siblings in Shechem when he runs into some random guy who just happens to be wandering the same fields (for who knows how long), and knows exactly who Joseph's brothers are, has overheard them saying where they were going…and amazingly remembers it all.
What a coincidence…such a chance encounter!
Or maybe as Théophile Gautier (1845) says,
"Chance is perhaps the pseudonym of God
when He does not want to sign."
When God gives us curious details, it's worth asking ourselves why. One answer is unmistakable: It's so we'll have evidence to believe God's story is unfolding exactly how God intends.
Think about it:
Why might God want us to know His intention in sending Joseph into harm's way among his brothers?
How does direction to Dothan from this chance encounter help us to see God's foreknowledge of what will transpire?
Read Genesis 50:20 "You intended to harm me, but God intended it for good to accomplish what is now being done, the saving of many lives." In what way does this chance encounter offer evidence of God's will for a greater purpose?
What painful circumstances in your life might be chance encounters for a greater purpose?