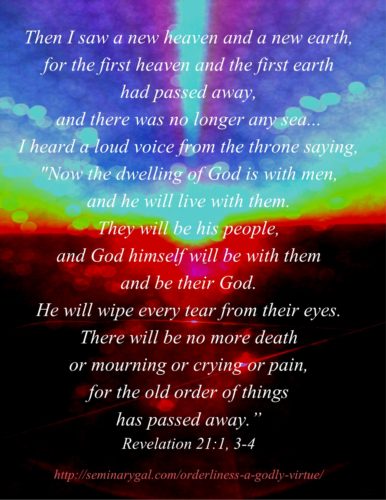 Why would God value orderliness? Because He's the author of order and established it over chaos. That's why in our current climate of rapid information and total mishmash of truth and lies, I really appreciate Luke's having laid out his Gospel and the book of Acts as an "orderly account." And not just that, but waiting until he had "carefully investigated everything from the beginning."
Luke 1:3 Therefore, since I myself have carefully investigated everything from the beginning, it seemed good also to me to write an orderly account for you, most excellent Theophilus, 4 so that you may know the certainty of the things you have been taught.
Oh the heartache we would save ourselves if we just simply investigated before jumping to conclusions without orderliness! It's a Tiny Virtue for Exemplary Christians. If only we'd value it as we should.  Sensationalism sells. Orderliness saves…because it's rooted in the Gospel and it comes from God.
Jesus is the Way.  He came at just the right time (Galatians 4:4-5).  Orderly.  Just as we would expect because God Himself is a God of orderliness.
The Apostle Paul taught about this:
Worship should be orderly. 1 Corinthians 14:40 But everything should be done in a fitting and orderly way.
Our lives likewise should be orderly. Colossians 2:5 For though I am absent from you in body, I am present with you in spirit and delight to see how orderly you are and how firm your faith in Christ is.
Transitions are orderly. The Apostle John wrote the words of Christ Himself: Revelation 21:1 Then I saw a new heaven and a new earth, for the first heaven and the first earth had passed away, and there was no longer any sea. 2 I saw the Holy City, the new Jerusalem, coming down out of heaven from God, prepared as a bride beautifully dressed for her husband. 3 And I heard a loud voice from the throne saying, "Now the dwelling of God is with men, and he will live with them. They will be his people, and God himself will be with them and be their God. 4 He will wipe every tear from their eyes. There will be no more death or mourning or crying or pain, for the old order of things has passed away."
Ponder today: Do you value orderliness or do impulse and chaos dominate your thinking?
Bible characters of the day: Luke, Paul, John, and Jesus