God doesn't do Plan B. God has never developed a Plan B in case His original plan didn't work out. Jesus isn't a measure-twice-cut-once kind of guy. God's ways are perfectly conceived, perfectly executed, and achieve exactly what God wants … even with the Jews first and then Gentiles.
So why didn't God just go straight to the Gentiles instead of fiddling on the roof with the Jews as chosen people?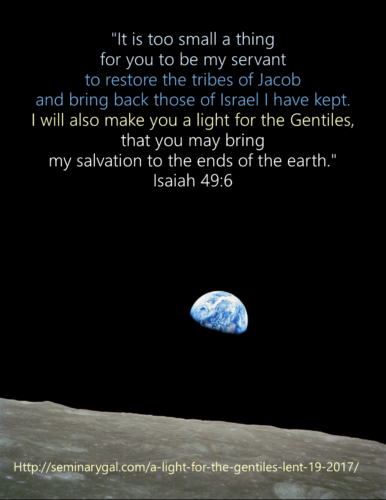 God gives His own answer for what the Suffering Servant (Jesus) would do when in Isaiah 49:6 he says: "It is too small a thing for you to be my servant to restore the tribes of Jacob and bring back those of Israel I have kept. I will also make you a light for the Gentiles, that you may bring my salvation to the ends of the earth."
Indeed, when Jesus came and opened the scroll at the beginning of His ministry, He opened to a passage in Isaiah 61 describing the Year of the Lord's Favor, and perfectly reflects Isaiah 42:6 "I, the LORD, have called you in righteousness; I will take hold of your hand. I will keep you and will make you to be a covenant for the people and a light for the Gentiles, 7 to open eyes that are blind, to free captives from prison and to release from the dungeon those who sit in darkness."
The Light of the World, Jesus Christ, was sent as a covenant—proved faithful and true—for the Jews and as God's perfect, faithful, and true Light for the Gentiles.
Fun Fact of Light: Reflection and Refraction. According to Jim Lucas, contributor at Live Science, "When people look into a mirror, they see an image of themselves behind the glass. That image results from light rays encountering the shiny surface and bouncing back, or reflecting, providing a "mirror image." People commonly think of the reflection as being reversed left to right; however, this is a misconception. If you face north and look straight into a mirror, the east side of your face is still on the east side of the image, and the same is true for the west side. The mirror does not reverse the image left to right; it reverses it front to back. For example, if you are facing north, your reflection is facing south."
Reflection and refraction—two types of geometric optics—are useful in creating telescopes. George Mason University's Physics Department, in a great power point pdf explains, "The fundamental purpose of any telescope is to gather more light than the unaided eye can. In many cases telescopes are used to produce images far brighter and sharper than the eye alone could ever record. A refracting telescope uses a lens to concentrate incoming light at a focus. Lenses bend different colors of light through different angles, just as a prism does … If the telescope designer carefully chooses two different kinds of glass for two lenses that make up the one, different colors of light can be brought to a focus at the same point." Modern technology of special optical mirrors are used in, for example, the Hubble Space Telescope using the same concepts of geometric optics.
For Further Thought: Read Acts 13:46 Then Paul and Barnabas answered them boldly: "We had to speak the word of God to you first. Since you reject it and do not consider yourselves worthy of eternal life, we now turn to the Gentiles. 47 For this is what the Lord has commanded us: "'I have made you a light for the Gentiles, that you may bring salvation to the ends of the earth.'" 48 When the Gentiles heard this, they were glad and honored the word of the Lord; and all who were appointed for eternal life believed. 49 The word of the Lord spread through the whole region.
How does this fulfill the covenant God made to Abraham in Genesis 17:4-5?
Thank You, Father, for Your perfect plan of salvation to include people from many nations, tribes, and tongues. For all the beautiful diversity in humanity, we thank You Father. Thank You that Jesus alone is the focus of our salvation. In Him alone, do we have hope, both Jews and Gentiles.. In Christ alone, we see Your Light in its clearest, brightest, most perfect Image, Jesus, who reflects Your goodness, love, and glory. Amen.