As we continue our Carol Me, Christmas (2014 Advent Devotional Series), we are in Bethlehem and seeing the Christ Child as the story of Christmas unfolds.  Once in Royal David's City points to that royal city Bethlehem where both Joseph and Mary, both from the line of David, would register for the census.  Mary was over 12 years old, the legal age to be taxed.  She had to go to Bethlehem too.  She had to go personally and couldn't leave the responsibility to Joseph to whom she was "pledged to be married."
Luke 2:1 In those days Caesar Augustus issued a decree that a census should be taken of the entire Roman world. 2 (This was the first census that took place while Quirinius was governor of Syria.) 3 And everyone went to his own town to register. 4 So Joseph also went up from the town of Nazareth in Galilee to Judea, to Bethlehem the town of David, because he belonged to the house and line of David. 5 He went there to register with Mary, who was pledged to be married to him and was expecting a child. 6 While they were there, the time came for the baby to be born, 7 and she gave birth to her firstborn, a son. She wrapped him in cloths and placed him in a manger, because there was no room for them in the inn.
Mary and Joseph were legal citizens of the province of Syria, the part of the Roman Empire in which Palestine was located.  Mary and Joseph were both from the line of David, as were their parents.  One can only assume that since everyone went to his own town to register, both Joseph's and Mary's parents and their families would have been participating in the legal census too, especially since they were likely righteous Jews, having raised devout and observant children.
The fact that there was "no room" at the inn suggests that neither Mary nor Joseph were any longer welcomed by their families.  After all, what kind of parents would allow their pregnant daughter to sleep in the cold if they had a room at the inn to share?
Righteous and observant doesn't necessarily mean faithful in the eyes of God.  Sometimes people don't and won't understand that God does things in ways incomprehensible to us.  And that's because our brains are far too small—even the smartest among us—to fathom the miraculous of God.
Instead, shepherds—the lowest of the pecking order—get it.  They hear the news.  They believe.  Meanwhile we have no record of Mary's or Joseph's parents ever coming to see this baby, Mary's parents' grandchild and Joseph's parents' presumed grandchild.  If the silence of Scripture is an indication, the Messiah comes—the One these righteous people would have been waiting for—and they miss it.  Completely.
Luke 18:10 "Two men went up to the temple to pray, one a Pharisee and the other a tax collector. 11 The Pharisee stood up and prayed about himself: 'God, I thank you that I am not like other men– robbers, evildoers, adulterers– or even like this tax collector. 12 I fast twice a week and give a tenth of all I get.' 13 "But the tax collector stood at a distance. He would not even look up to heaven, but beat his breast and said, 'God, have mercy on me, a sinner.' 14 "I tell you that this man, rather than the other, went home justified before God. For everyone who exalts himself will be humbled, and he who humbles himself will be exalted." 15 People were also bringing babies to Jesus to have him touch them. When the disciples saw this, they rebuked them. 16 But Jesus called the children to him and said, "Let the little children come to me, and do not hinder them, for the kingdom of God belongs to such as these. 17 I tell you the truth, anyone who will not receive the kingdom of God like a little child will never enter it."
Is it coincidence that Jesus says we need to have a childlike faith immediately after an example of the self-righteous and the self-abased?  This childlike faith is what Mrs. Cecil Frances Alexander's poem Once in Royal David's City (first published in 1848) talks about.
As you listen to this version by Ecclesium consider the Thought Focus for Today.
Thought Focus for Today:  The same God who says, "'Come now, let us reason together,' says the LORD. 'Though your sins are like scarlet, they shall be as white as snow; though they are red as crimson, they shall be like wool'" (Isaiah 1:18) also tells us to demonstrate childlike faith that simply and humbly believes.  Where are you today?  Is it possible to spend so much time attempting to reason out the miraculous that we might miss the Miracle of Christ Jesus?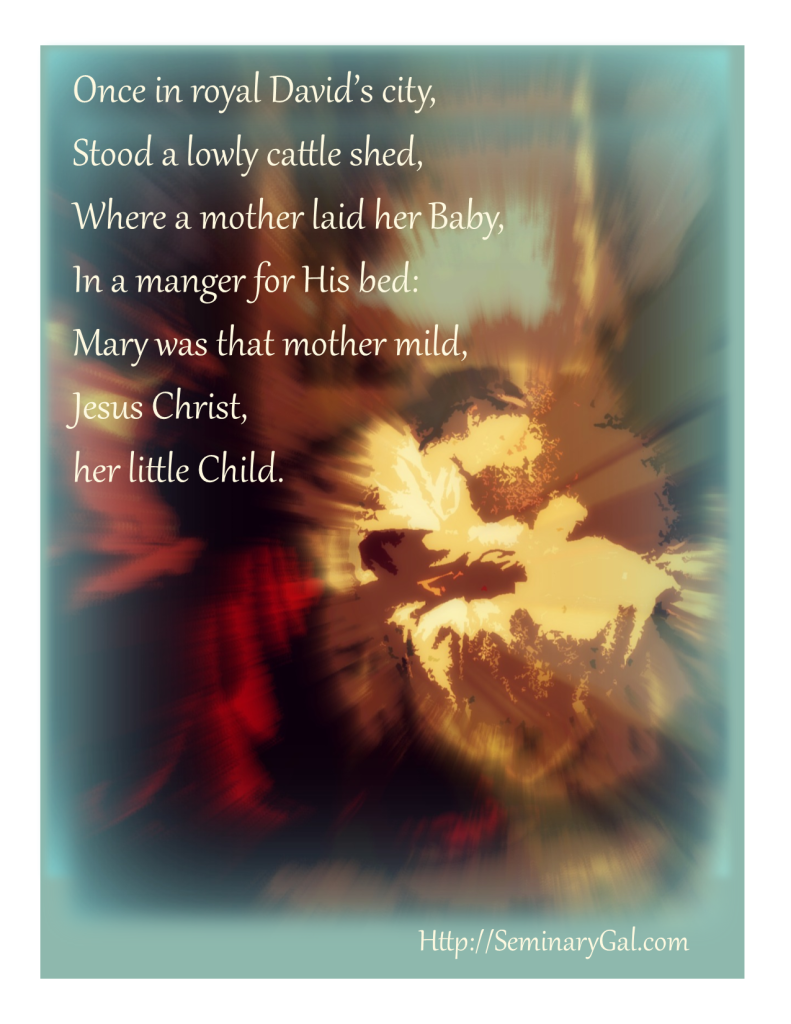 Once in royal David's city,
Stood a lowly cattle shed,
Where a mother laid her Baby,
In a manger for His bed:
Mary was that mother mild,
Jesus Christ, her little Child.
He came down to earth from heaven,
Who is God and Lord of all,
And His shelter was a stable,
And His cradle was a stall:
With the poor, and mean, and lowly,
Lived on earth our Savior holy.
For He is our childhood's pattern;
Day by day, like us, He grew;
He was little, weak, and helpless,
Tears and smiles, like us He knew;
And He cares when we are sad,
And he shares when we are glad.
And our eyes at last shall see Him,
Through His own redeeming love;
For that Child so dear and gentle,
Is our Lord in heaven above:
And He leads His children on,
To the place where He is gone.
====
Carol Me, Christmas (2014 Advent Devotional Series) began November 30th.  By way of reminder, if you haven't signed up yet, you can receive these devotional studies in your email throughout Advent 2014 by entering your email address on the SeminaryGal.com home page in the space provided in the sidebar.  Or "Like" the SeminaryGal Facebook page to access them there.  If you like these devotionals, I'd really appreciate your letting others know so I can continue to spread the Good News far and wide.  Blessings to you, in Christ always, Barbara <><