As we begin Advent 2014 with devotions to Carol Me, Christmas, we start with anticipation!  O Come O Come Emmanuel is traditionally sung either at the very beginning of Advent or in the final days just prior to Christmas.  Its haunting melody accurately communicates a world in pain, in distress, and dying for need of a Savior.  The tune is slow, majestic, and mournful.  You wouldn't probably be surprised to learn that the melody (Veni Emmanuel) is from a Requiem Mass (Mass for the repose of the souls of the dead).  It's a lament for the dead, or a dirge (funeral song) from a 15th century French Franciscan convent of nuns located in Portugal.   To a world that's dying in sin, it's a perfect melody.
The words are considered an Antiphon (a response chant kind of like a Gregorian chant also known as a "plainsong").  Oftentimes, the original 7 verses were sung out in unison and then the response was chanted back (often in harmony) and rang out "Rejoice! Rejoice! Emmanuel, Shall come to thee, O Israel."
Greg Sheer (1994) writes,
The text for "O Come, O Come, Emmanuel" comes from a 7 verse poem that dates back to the 8th century. It was used in a call and response fashion during the vespers, or evening, service. The original text created the reverse acrostic "ero cras," which means "I shall be with you tomorrow," and is particularly appropriate for the advent season. A metrical version of five of the verses appeared in the 13th century, which was translated into English by J.M. Neale in 1851.
To be sure, most hymnals shortcut the Antiphon's theological ties by listing it only as "Behold a virgin shall…bear a son, and shall call His name Immanuel (Isa 7:4)."  The theological implications and teachings are more profound, however.  They are reflected, not only in the many Old Testament names given for the Messiah, but also in their teachings of truths about humanity.
Here are the names in the 5 verses that appeared in the 13th century as pointed out by Sheer.
"Emmanuel" (Isaiah 7:14, Mt 1:23) means "God with us"
"Adonai" (Exodus 19:16) is a name for God, the giver of the law (*My note Adonai means Lord and is the way the Jews avoided saying "The Name" represented by YHWH—a tetragrammaton for The Name of God, Yahweh, considered too holy to even speak!)
"Branch of Jesse" (Isaiah 11:1) refers to Jesus' lineage
"Oriens" (Malachi 4:2, Luke 1:78-79) is the morning star or daystar
"Key of David" (Isaiah 22:22) again refers to Jesus' lineage
Many of our hymnals, however, will have a different listing of names or varied orders (Emmanuel, Rod of Jesse, Dayspring, Key of David, and Desire of Nations) or even (Wisdom, Emmanuel, The Lord of Might, The Rod of Jesse, Dayspring, and The Key of David).  Still that is only six–one short of the 7 verses from the original "Great O Antiphons."  Here you will find a nice chart of how the Catholics use the Antiphons during the final week of Advent including the Latin since you may have noted that the first letters of the English don't add up to ero cras .
The Anglican Church of the Province of Southern Africa lists the Antiphons this way:
Antiphon 1  O Emmanuel, our King and Giver of the Law, the people await you, their Savior:  Come and save us , O Lord our God!
Antiphon 2  O Wisdom, you came forth from the lips of God Most High and you reach from one end of the universe to the other, powerfully and gently ordering all things:  Come and teach us the way of prudence!
Antiphon 3   O Adonai and Leader of the house of Israel, you appeared to Moses in the flame of a burning bush and at Sinai you gave him the Law:  Come with your outstretched arm to save us!
 Antiphon 4  O Root of Jesse, you stand for a sign to the peoples; before you kings are silent, and Gentiles pray with longing:   Come now and set us free!
Antiphon 5  O Key of David, and Ruler of the House of Israel, you open and none can shut; you shut and no one can open:   Come and lead out of the prison house the captives who sit in darkness and in the shadow of death!
Antiphon 6  O Morning Star, you are the splendor of eternal life; you are the dawning sun, the Sun of justice:     Come and enlighten those who sit in darkness and in the shadow of death!
Antiphon 7  O King of nations and fulfillment of their longing, you are the Cornerstone and you make all one; you formed us from primeval clay:  Come, and save us!
No matter which version you use, the theology is the same.  Israel as the Chosen People group was prophesied by Isaiah to end up in Babylonian captivity (Isaiah 39:6) in a physical sense forming a fitting metaphor for the spiritual captivity of the entire world due to human sin, idolatry, and rebellion against God.   But there would be restoration when the Messiah finally comes.  There would be Comfort for God's people (Isaiah 40:1-5)…but only when Emmanuel comes to ransom all of us who have been held captive to sin.  He redeemed us by His death on the Cross.  So we anticipate the birth of Messiah—not because He's a cute baby in a manger—but because of what He would do to save us!
This Messiah is King and Lawgiver.  He is the Wisdom that created the entire universe.  He is the Lord and Leader promised to Israel.  He is the Root of Jesse once razed to the ground by the Assyrians and Babylonians, but when captive Judah returned to the land… from this stump, the Kingdom would again rise.  He is the Key of David prophesied in Isaiah 22:22 and shown as fulfilled in Revelation 3:7 when the Spirit says to the churches:  "To the angel of the church in Philadelphia write: These are the words of him who is holy and true, who holds the key of David. What he opens no one can shut, and what he shuts no one can open."  He is the Morning Star spoken about in prophecy and fulfilled in Revelation 22:16 "I, Jesus, have sent my angel to give you this testimony for the churches. I am the Root and the Offspring of David, and the bright Morning Star."  And He is the King of Nations, the Cornerstone over which some have stumbled but who has become the Capstone, holding all things together.  He is the Desired of all nations.   Haggai 2:7 I will shake all nations, and the desired of all nations will come, and I will fill this house with glory,' says the LORD Almighty.
When we listen to O Come O Come Emmanuel (click link) we should reflect with great anticipation at the deliverance ahead.  As Advent 2014 begins, we joyfully remember His birth, yet we mourn…remaining a world in distress, needing the healing touch that only "God with us, Emmanuel," can provide.  Until He returns, all we can do is cry out, "How long, O LORD?" (Psalm 6:3-4; Revelation 6:10) and "Come quickly Lord Jesus" (Revelation 22:20).
O Come O Come Emmanuel….
Thought focus for today's reflection: 
Anticipation at God's deliverance from an evil world in strife and rebellion.  Come, Lord Jesus!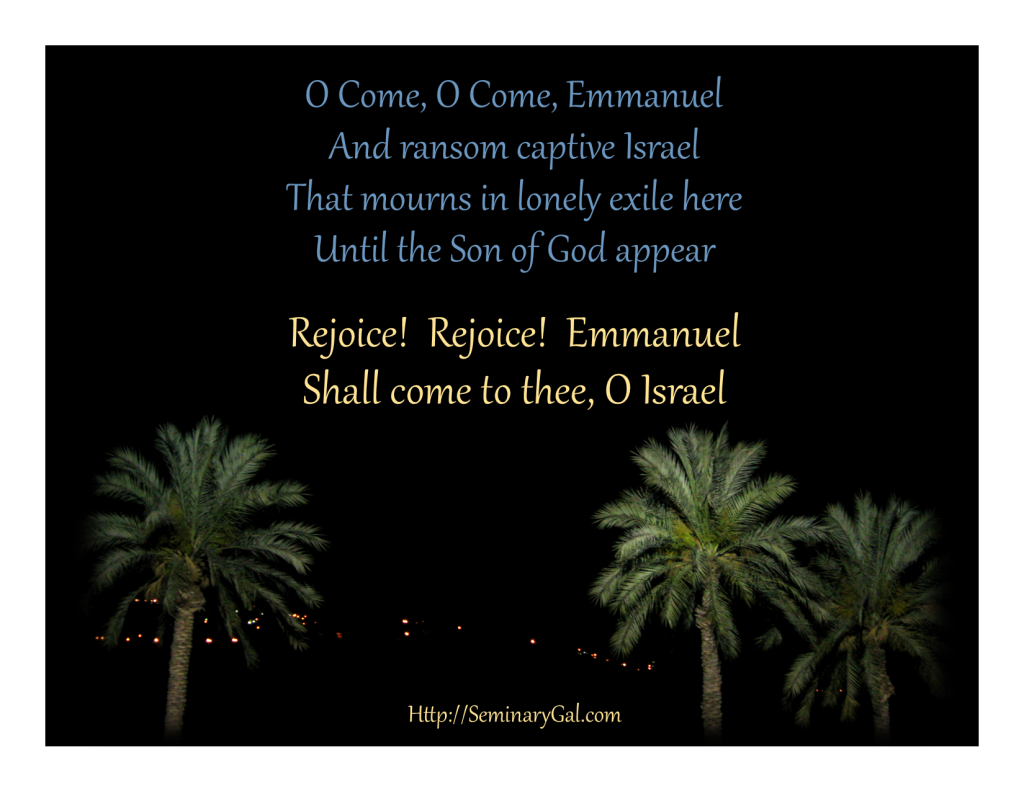 O come, O come, Emmanuel
And ransom captive Israel
That mourns in lonely exile here
Until the Son of God appear
Rejoice! Rejoice! Emmanuel
Shall come to thee, O Israel.
O come, Thou Rod of Jesse, free
Thine own from Satan's tyranny
From depths of Hell Thy people save
And give them victory o'er the grave
Rejoice! Rejoice! Emmanuel
Shall come to thee, O Israel.
O come, Thou Day-Spring, come and cheer
Our spirits by Thine advent here
Disperse the gloomy clouds of night
And death's dark shadows put to flight.
Rejoice! Rejoice! Emmanuel
Shall come to thee, O Israel.
O come, Thou Key of David, come,
And open wide our heavenly home;
Make safe the way that leads on high,
And close the path to misery.
Rejoice! Rejoice! Emmanuel
Shall come to thee, O Israel.
O come, O come, Thou Lord of might,
Who to Thy tribes, on Sinai's height,
In ancient times did'st give the Law,
In cloud, and majesty and awe.
Rejoice! Rejoice! Emmanuel
Shall come to thee, O Israel.
O, come, Desire of nations, bind
All people in one heart and mind
 Bid Thou our sad divisions cease,
 And be Thyself our King of Peace.
 Rejoice! Rejoice! Emmanuel
 Shall come to you, O Israel!
====
Carol Me, Christmas (2014 Advent Devotional Series) began November 30th.  By way of reminder, if you haven't signed up yet, you can receive these devotional studies in your email throughout Advent 2014 by entering your email address on the SeminaryGal.com home page in the space provided in the sidebar.  Or "Like" the SeminaryGal Facebook page to access them there.  If you like these devotionals, I'd really appreciate your letting others know so I can continue to spread the Good News far and wide.  Blessings to you, in Christ always, Barbara <><